Transfer Programs
Start here, go anywhere. Transfer Programs allow you to complete an associate degree at Columbus State, then apply it toward a bachelor's degree at a four-year university. Complete your first two years with our small classes and the lowest tuition in the region.
See also: Transfer To CState
How Transfer Works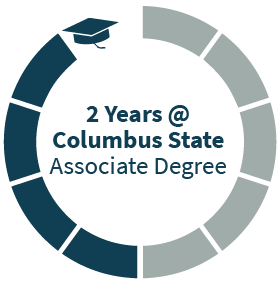 Earn a two-year associate degree at Columbus State.
Apply your associate degree to the first two years of a bachelor's degree at a four-year college.
Search Transfer Agreements
Use this tool to search all 400+ agreements we have with individual colleges. These agreements spell out what courses you need to take at Columbus State and your next university to get your bachelor's degree.
Can't find the plan you want? There are statewide partnerships and university advisors that can help you find your own path to a bachelor's degree! Find Your Transfer Program
Meet With Other Colleges
We regularly host advisors from other colleges! They come here to recruit our students to their colleges and advise them on what courses to take for a smooth transfer.
University Transfer Center
Our University Transfer Center maintains our agreements with other colleges and helps connect our students with advisors from other colleges.
College Partners
We've built 400+ transfer partnerships with colleges around the state and nationally. And we've joined forces with nine top local colleges to create special transfer plans using the Preferred Pathway.
Preferred Pathway | View all College Partners
Get Started
Ready to start at Columbus State, then transfer to another college? Apply for Admission and follow the Get Started Guide.
On your application, indicate you plan to earn an associate's degree to transfer to another institution. Also, list your intended college and major.
Once you're in our system, we can connect you with an advisor. Most students will get their course plans at Orientation or New Student Workshop.
Why Columbus State

76%
Percentage of our students who take on zero debt in one year

400+
transfer agreements

60%
Reduction in the cost of a bachelor's degree
Department Contact
Academics Department
(614) 287-0000