Careers that change lives.
Yours included.
Careers at Columbus State Community College
At Columbus State Community College, we pride ourselves in being Central Ohio's front door to higher education and a leader in advancing our region's prosperity. By joining our team, you will contribute to our mission to educate and inspire an entire community of learners. Together we can change lives and help our students achieve their goals.
Play a role in shaping tomorrow.
Our Work Culture
We are teachers, administrators, and staff members committed to a common goal: student success. We believe that fulfilling lives are grounded in self-awareness and continuous learning. We embrace bold ideas, lead by action and example, and recognize that more can be accomplished together than alone. We believe that a community college needs to look like the community. With that in mind, we are a proud reflection of the demographics of Central Ohio, and we leverage the College's rich diversity to strengthen our community and increase regional prosperity.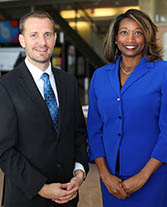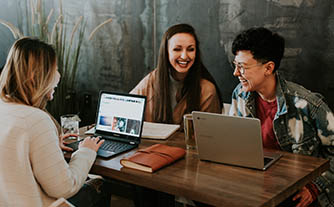 Employee Benefits
Comprehensive insurance coverage
Paid time off
Columbus State tuition fee waivers for employees and dependents
Tuition reimbursement
Employee Assistance Program
Employee discounts
Retirement plans
Sabbatical leave
Professional development
Free parking
Opportunities to Engage
Employee Resource Groups (ERGs) that allow members to connect with other employees who share similar interests and a common bond or background
A variety of in-person and online professional development opportunities
Participation in an annual day to give back to the Central Ohio community
Annual Quality Awards ceremony to reward and acknowledge employee excellence
Staff Employee of the Month
Access to numerous on-campus eating venues
On-campus fitness center
About the College
With an annual enrollment of 45,000 students, Columbus State Community College is the largest community college in Ohio and among the largest community colleges in the nation. The College offers more than 300 associate degrees and certificates, making it an entry point to higher education and the workforce.
This is possible in large part thanks to the 2,500 dedicated employees who share their knowledge and experience. In addition to the downtown Columbus campus and the Delaware campus, Columbus State has six Regional Learning Centers as well as Industry Sites and Educational Partner Sites located throughout the region.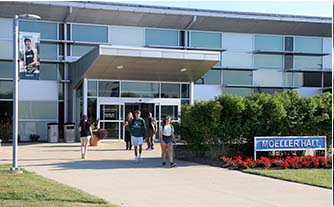 Points of Pride
Preferred Pathway partnerships with nine Ohio colleges and universities
New School of Hospitality Management and Culinary Arts building, Mitchell Hall – opened 2019
Central Ohio Compact, a strategy focused on increasing degree attainment and developing a talented workforce
Leader in the College Credit Plus Program, which allows high school students to earn free college credit
98 active grant projects, with a total value of $70.4 million
One of 10 community colleges in the Racial Equity Leadership Academy, led by Achieving the Dream and USC Race and Equity Center
Earned national recognition for improving student success rates and narrowing equity gaps
Longstanding commitment to social impact and civic engagement
The Columbus Region
Our main Columbus campus is located in the downtown Discovery District, not far from the Columbus Museum of Art and the main branch of the award-winning Columbus Metropolitan Library. Columbus, which enjoys a robust economy, is the state capital and currently stands as the 14th-most populous city in the country.
The region is home to Fortune 500 and Fortune 1000 companies, several fast-growing startups, high-quality academic institutions, major research entities, world-class arts organizations, excellent public schools, a thriving restaurant and nightlife scene, collegiate and pro sports, and an inclusive community.
The city remains affordable for young professionals and families and has been the recipient of numerous accolades, including:
One of the top five U.S. cities for work-life balance (SmartAsset.com 2020)
A top 10 best metro for millennials to live and work (The New York Times 2020)
A top city for young, growing families (CNBC 2019)
Are you ready for an opportunity to do your best work while making a difference in the lives of others? Check out our current opportunities and apply today.