Otterbein University
Representatives from Otterbein University are available to meet with students by email at the contact information below. Virtual meetings request is also possible by contacting us. Please see below for details regarding Otterbein University's Virtual Visit opportunities.
About Otterbein University
Founded in 1847, Otterbein is a small, private, liberal arts university located in Westerville (about 15-20 minutes from Downtown Columbus). About 3000 students are enrolled at Otterbein's campus in over 70 undergraduate and 8 graduate majors. Students with more than 12 semester hours will be considered transfer students for application purposes.
Two Campuses, One Experience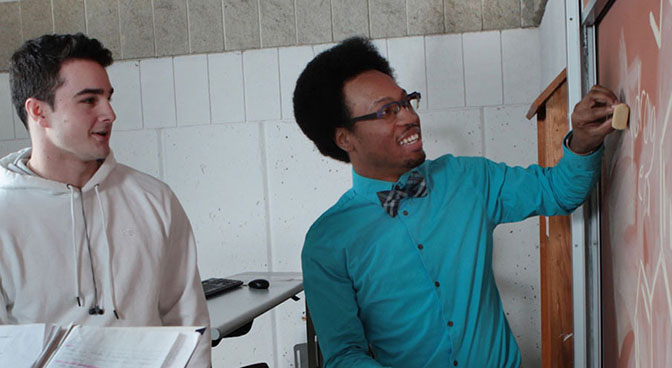 Columbus State Community College and Otterbein University have partnered to offer an extraordinary alternative to Central Ohio students. Through a new Dual Admission Program, students can earn both an associate degree from Columbus State and a bachelor degree from Otterbein for less than half what it usually costs to earn a bachelor degree from a four-year public institution.
Students with less than 30 earned credit hours or new Columbus State students are eligible for the dual admission program.
GUARANTEED ADMISSION
We believe in Columbus State students and know their foundation is strong. We offer guaranteed admission to any student who graduates from Columbus State Community College with an Associate's degree.
We will gladly provide an unofficial evaluation of your Columbus State credits towards a major at Otterbein.
Students who graduate with a GPA of 2.75 or higher are awarded a $17,000 scholarship to complete their bachelor's degree at Otterbein, provided the student is registered for full-time course work and maintains at least a 2.75 GPA.

Benefits for Columbus State Graduates
Information for Columbus State Students
Otterbein University Contacts for Columbus State Students
Mary Mosca and Jennifer Hicks are available to speak to Columbus State students in the Transfer Center (Aquinas Hall 126) on Wednesdays from 9 am until 1 pm or at the Delaware Campus in Moeller Hall on select days. Their schedule, as well as the schedule for other related Otterbein University transfer events, can be viewed below.
Mary works with traditional age transfer students and Jennifer works with adult degree seeking students (23 years old and older). We welcome students who have just begun their studies at Columbus State to those who have already graduated and are planning transfer to Otterbein University. If students have any questions, they may contact either Jennifer or Mary via email at jhicks@otterbein.edu or mmosca@otterbein.edu.
Virtual Visit Information
Otterbein holds virtual office hours every Wednesday from 10am - 1pm begining September 2 until November 18, 2021. To register click here or contact Mary Mosca at 614-823-1562 or by email at mmosca@otterbein.edu to schedule a a phone or Zoom appointment.
Virtual Transfer Information Sessions
Register here for Otterbein's Transfer Tuesday. You will learn about Otterbein's transfer friendly environment, set in the perfect location, with all the right personal touches. You will hear about the transfer process, application requirements, how to manage your successful transition, credit evaluations, internships and financial aid options. To Register, go to visit.Otterbein.edu to sign up for our Transfer Tuesday events.
Virtual Residence Hall tours can be found on Instagram @otterbeinuadmit
Virtual Transcript Evaluation for Students
Transfer students who are interested in an unofficial transcript evaluation for transfer credit to Otterbein should email their transcripts to Cardinalinfo@otterbein.edu or contact Mary Mosca at mmosca@otterbein.edu
---
Otterbein Pathways
Department Contact
Academics Department
(614) 287-0000