Otterbein University
About Otterbein University
Founded in 1847, Otterbein is a small, private, liberal arts university located in Westerville (about 15-20 minutes from Downtown Columbus). About 3000 students are enrolled at Otterbein's campus in over 70 undergraduate and 8 graduate majors. Students with more than 12 semester hours will be considered transfer students for application purposes.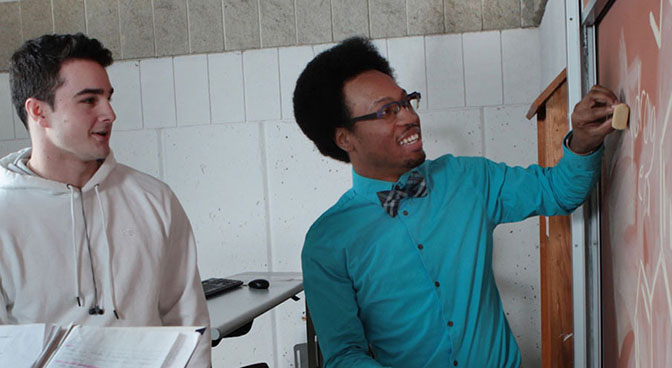 Columbus State Community College and Otterbein University have partnered to offer an extraordinary alternative to Central Ohio students. Through a new Dual Admission Program, students can earn both an associate degree from Columbus State and a bachelor degree from Otterbein for less than half what it usually costs to earn a bachelor degree from a four-year public institution.
Benefits for Columbus State Graduates
Students who graduate with an Associate of Arts (AA) or Associate of Science (AS) degree will be guaranteed admission to Otterbein. Some academic programs may require separate applications beyond the university admissions application.
Courses with grades of "C" or higher will be transferred.
Information for Columbus State Students
To determine how individual courses from Columbus State transfer to Otterbein, students should consult Otterbein's Course equivalency information
Obtain information on the Otterbein online application here
Otterbein University Contacts for Columbus State Students
Mary Mosca and Jennifer Hicks are available to speak to Columbus State students in the Transfer Center (Aquinas Hall 126) or at the Delaware Campus in Moeller Hall. Their schedule, as well as the schedule for other related Otterbein University transfer events, can be viewed below and here.
Mary and Jennifer welcome students who have just begun their studies at Columbus State to those who have already graduated and are planning transfer to Otterbein University. If students have any questions, they may contact either Jennifer or Mary via email at jhicks@otterbein.edu or mmosca@otterbein.edu.
Otterbein University pathways are currently under revision in anticipation of changes to Otterbein's general education, degree, and graduation requirements that become effective in Autumn 2018. Please check back for updates and restoration of pathway links as they become available throughout the late spring and summer. Current Columbus State students following an established pathway to Otterbein using the "old" requirements are strongly encouraged to meet with one of the Otterbein University contacts for Columbus State to discuss their degree plan and course work at CSCC and Otterbein going forward.
---
Pathways
BA
Art
(Photography Concentration)
Associate of Arts
2+2
BS
Business Analytics
AAS Management Information Systems
2+2
BA
Chemistry
Associate of Science
2+2
BA
Communication Studies
Associate of Arts
2+2
BA
Allied Health
AAS Sports and Exercise Studies- Exercise Science Track
2+2
BS
Allied Health
AAS Sports and Exercise Studies- Exercise Studies Track
2+2
BA
Public Health Education
AAS Sports and Exercise Studies- Wellness & Health Promotion Track
2+2
Education
(see options below)
BA

Health Communication

Associate of Arts
2+2
BA

Journalism & Media

Associate of Arts
2+2
BA

Liberal Studies in Leadership

Associate degree, any major
2+2
BA

Mathematics

Associate of Science
2+2
BS

Mathematics

Associate of Science
2+2
BA

Physics

Associate of Science
2+2
BA

Public Relations

Associate of Arts
2+2
BA

Sustainability Studies

Associate of Arts
2+2
BS

Systems Engineering

Associate of Science
2+2
Education Pathways
Click here for information about Otterbein's Teacher Education Licensure Programs
Early Childhood Education

BSE

Early Childhood Education

Associate of Arts

2+2

BSE

Early Childhood Education

AAS Early Childhood Dev. & Education

2+2

Middle Childhood Education (Grades 4-9)

BSE

Middle Childhood Education




(Language Arts & Mathematics)

Associate of Arts

2+2

BSE

Middle Childhood Education
(Language Arts & Science)
Associate of Arts
2+2

BSE

Middle Childhood Education




(Language Arts & Social Studies)

Associate of Arts

2+2

BSE

Middle Childhood Education




(Math & Social Studies)

Associate of Arts

2+2

BSE
Middle Childhood Education
(Math & Science)
Associate of Science
2+2

BSE

Middle Childhood Education(Science & Social Studies)

Associate of Arts

2+2

Adolescent to Young Adult (Grades 7-12)

BSE

Integrated Science
(grades 7-12)
Associate of Science
2+2
Department Contact
Academics Department
(614) 287-0000