Scholarships
RECLAIM YOUR FUTURE
Level up your career and build a better life with full tuition support from Columbus State.
To give a boost to individuals and our community as we recover from the pandemic, we're offering a year of full tuition support for adults 20 and over who've never been to college and want to enroll this fall. Don't let this past year have the final say. It's time to reclaim your future and earn your degree at Columbus State.
The offer is good for students who start Autumn Semester 2021, which begins on Aug. 30. Apply by Aug. 8.
CSCC Scholarships - It takes just one application!
Applying for scholarships at Columbus State couldn't get any easier! We ask the student to provide some basic information in our scholarship system by completing a General Application as a starting point. Once the application has been completed, the system will make suggestions, based on the information in the application, of opportunities we have open matching the student's profile. Click the 'View/Search Scholarships' button below to get started on your application.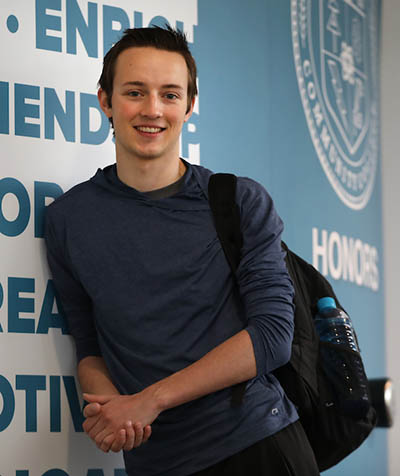 Just a reminder, scholarships provide funds to assist students and parents pay educational expenses such as tuition, fees, books and living costs. Scholarships do not have to be repaid. Generally, scholarships are awarded to students with specific qualifications, such as academic talent or financial need. Columbus State Community College offers a variety of scholarship opportunities for students. They are available to new applicants, including recent high school graduates, students currently attending, and returning students.
---
Scholarship Spotlight
First Responders Funding Opportunities
Students whose parent and/or guardian has died in the line of duty may be eligible for other college funding opportunities.
Future Scientists of Ohio (FSO) Scholarship Program
Full tuition for two years
Associate of Science majors with plans to transfer on to complete a STEM-related bachelor's degree may qualify for this full-tuition scholarship. The FSO scholarship pays for an associate degree at Columbus State and makes recipients eligible to apply for an additional FSO scholarship when they transfer to a four-year institution.
Honors Program Scholarship
Up to $2,000 per year
Columbus State's Honors Program gives high-achieving students in any program of study the opportunity to join a community of like-minded individuals who desire the benefits of a rigorous curriculum and heightened student and faculty interaction. Students accepted into the Honors Program are eligible to receive a scholarship up to $2,000 per year.
The Autumn 2021 application has closed. The application wil reopen for Spring 2022 on October 1, 2021.
The Health Careers Opportunity Program (HCOP)
$5,500 National Ambassadors Scholarship
The HCOP scholarship is open to students in the Health and Allied Health professions degree. This renewable scholarship provides academic support to students who are seeking an associate degree (AAS) to enter the workforce, transfer toward a bachelor's degree, or both.
Summer Jump-Start Award
$500 for Summer Semester 2021
This award was created in celebration of 2021 high school graduates' achievements in a time of exceptional challenges. Graduating seniors who earned at least two Columbus State College Credit Plus (CCP) credits during their senior year and register for at least one class as a traditional student in Summer Semester 2021 will automatically receive this award.
---
If you are interested in learning about supporting or creating a scholarship, please click here.
Department Contact
Academics Department
(614) 287-0000