Speeches & Statements
October 30, 2020
Columbus State signs on to community call for unity around election cycle
Colleagues,
I join the leaders of a working group of 17* fellow civic and nonprofit organizations in inviting you to sign on to a timely letter to our community. The letter is a call to come together as we take on the myriad challenges that will remain after this election cycle concludes.
You simply have to click here and enter your organization's name in order to be included on the list of those joining us in offering this message: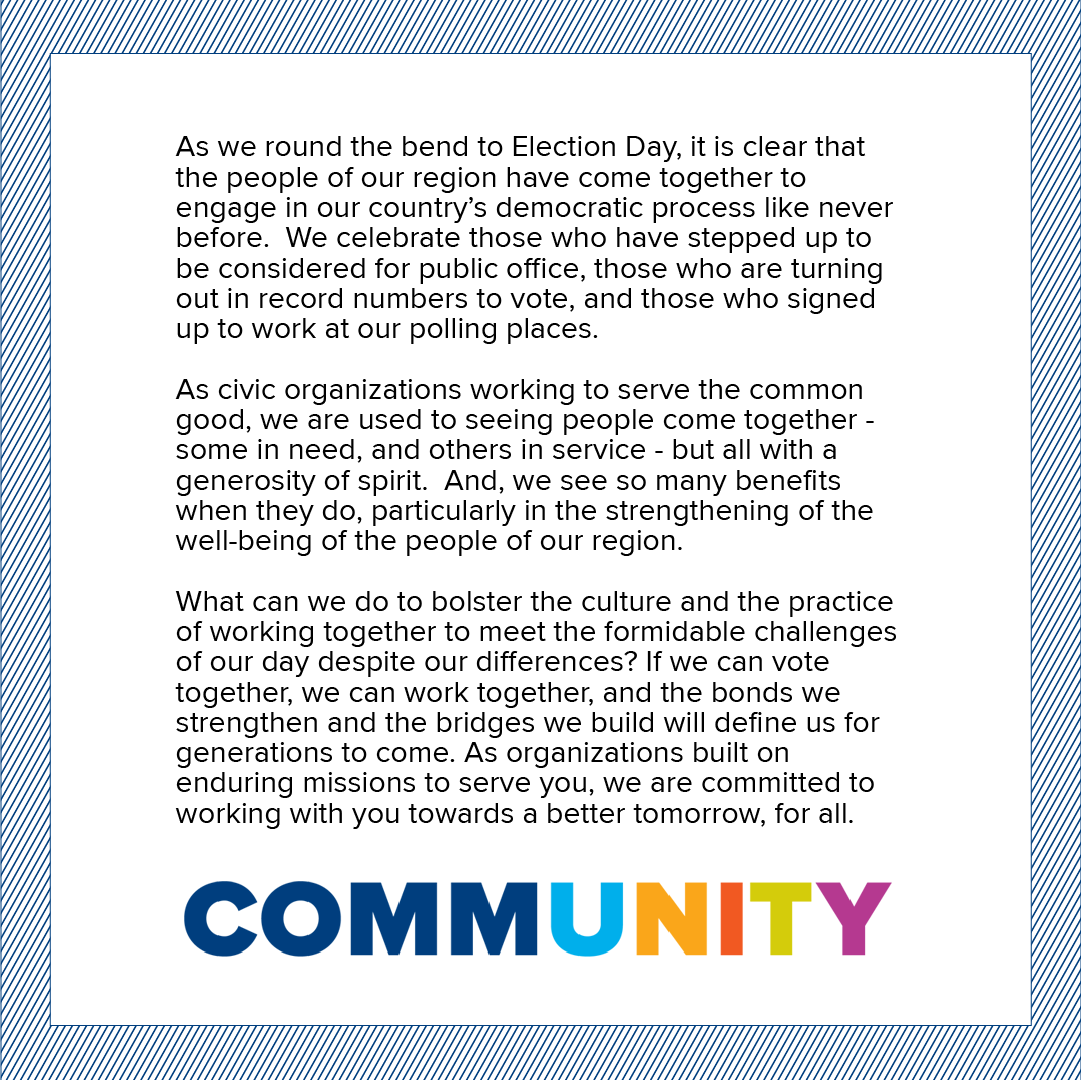 *Columbus Area Chamber of Commerce, Columbus College of Art and Design, Columbus Downtown Development Authority, Columbus Metropolitan Library, Columbus Partnership, Columbus Regional Airport Authority, Columbus State Community College, Columbus Urban League, COTA, Experience Columbus, Greater Columbus Arts Council, Mid-Ohio Regional Planning Authority, One Columbus, Rev1 Ventures, United Way, Women's Fund of Central Ohio, YWCA
June 2, 2020
A message from President Harrison to the Columbus State community
We're facing crisis on top of crisis, each of which is disproportionately impacting our sisters and brothers of color. Simply issuing a statement is not nearly enough, but the first step to solving any problem is to call it what it is. Read More
Live Local: Learn Local
May 20, 2020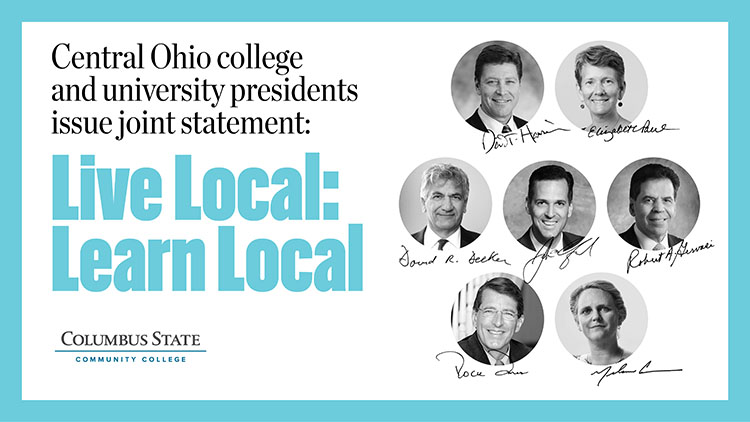 Columbus State joins Central Ohio initiative encouraging local students planning for fall to stay within the region. Learn More
State of the College – September 27, 2019
Columbus Business First Newsmaker podcast: Jan. 30, 2020
Columbus State's David Harrison on charting a career path in higher education
Columbus Dispatch Column: Oct. 21, 2018
Housing assistance can help keep students in school
The Future of Work - August 1, 2018
July 12, 2017 testimony to congressional Joint Economic Committee
There are about 6 million unfilled jobs in the country, yet employers struggle to find qualified workers. Dr. Harrison addressed a Congressional Committee about Columbus State's efforts to fill the gap, in partnership with local employers like Honda of America Manufacturing Inc. Many jobs require technical skills but not a four-year degree - a niche Columbus State is well-equipped to fill.
JEC: A Record Six Million U. S. Job Vacancies: Reasons and Remedies
From Educated to Hired: The Relationship Between Higher Education + HR
May 16, 2017 testimony before the Ohio Senate Finance Higher Education Subcommittee:
Spring 2016 In-Service Day Presentation
"Continuous Improvement"
April 21, 2016
April 2016 In-Service Day Presentation
Debt is a Choice: Presentation to Columbus Metropolitan Club
March 4, 2015
"Community Colleges are purpose-built to meet Ohio's two most urgent challenges: rising student debt and unmet workforce needs," President David Harrison told a group of civic leaders.
Fall In-Service, Sept. 24, 2014
The New Student, the New College
President Harrison spoke at the Columbus Metropolitan Club Sept. 25 on "The New Student, the New College." He was joined by Otterbein University President Kathy Krendl and Franklin University President David Decker, with the Columbus Dispatch's Encarnacion Pyle as moderator.
Making History Every Day breakfast
President David T. Harrison presented the college's Master Plan at a "state of the college"-style breakfast Sept. 19. More than 150 civic and business leaders and public officials gathered to hear plans for college access, deeper partnerships, and possible new construction.
Columbus State Community College Reynoldsburg Campus
In-Service Day
Oct. 17, 2012
Dr. Harrison's keynote presentation
In-Service Day
April 20, 2011
Dr. Harrison's keynote presentation
In-Service Day
Oct. 26, 2011
Dr. Harrison's keynote presentation
Business Leadership Speaker Series
May 11, 2011
Dr. Harrison gave the keynote address at the Business Programs Department's Business Leadership Speaker Series.
Dr. Harrison's Inauguration
March 11, 2011
Dr. Harrison speaks at Central Region Fall Conference
September 26, 2012
Department Contact
Academics Department
(614) 287-0000