Columbus State welcomes First Lady Jill Biden in elevation of Central Ohio workforce growth strategies
First Lady celebrates launch of Columbus Workforce Hub, with college as anchor institution
Campus News | Wednesday, July 12, 2023
First Lady Jill Biden poses with Columbus State students and recent graduates in attendance at her visit to Columbus City Hall. Dr. Biden's visit celebrated the launch today of regional Columbus Workforce Hub strategy development, convened by Columbus State as anchor institution of the White House-designated initiative.
Columbus State Community College President David Harrison joined other regional leaders today in welcoming First Lady Jill Biden to celebrate the launch of the White House-designated Columbus Workforce Hub.
Immediately prior to the First Lady Biden's afternoon visit, Dr. Harrison convened the steering committee to advance the regional strategy for the Columbus Workforce Hub. The steering committee includes representatives of employers, economic development organizations, local government partners and K-12 and higher education institutions. Columbus State is designated as the anchor institution for the initiative.
The White House designated Columbus among five U.S. Workforce Hub locations May 16 in recognition of explosive job growth in advanced manufacturing industries including semiconductor production, clean energy, biotechnology, high-performance computing and transportation.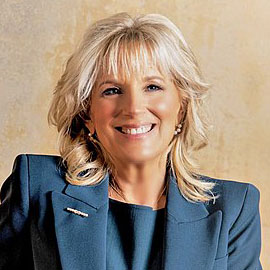 "For me, this is like a dream come true. With my students, I saw, not everybody wants a four-year degree. Yes, it is a pathway – but there are so many pathways. I see the collaboration here in your community and how you're all coming together and you're finding jobs for young people, and for all ages."
Dr. Jill Biden First Lady
"Columbus State is grateful that Dr. Biden has come to Columbus to recognize our public-private partnerships that have created this moment of enormous opportunity in Ohio," Dr. Harrison said. "With her deep background as a community college educator, she really gets the role we play in convening workforce development stakeholders. We're excited that the Columbus Workforce Hub is adding to the region's momentum."
Among other goals, the hub will support the work of Columbus State and the Ohio Semiconductor Collaboration Network to quadruple the number of students trained for engineering technology jobs over the next five years to prepare for major economic opportunities created by Intel, Honda/LG, Amgen and other growing employers.
The steering committee will be working over the coming months to further articulate and accelerate a coordinated regional approach to address workforce needs and ensure the region's diverse communities can seize job opportunities.
New semiconductor technician curriculum launches fall semester
Columbus State will launch the first two classes for its new semiconductor technician certificate this fall, toward a 2024 goal of getting students of all ages job ready as fast as nine months.
The certificate, developed in conjunction with Intel, will teach technician production fundamentals that are transferable to other advanced technology engineering settings, and fully applicable toward a two-year electro-mechanical engineering degree.
The full certificate offer is expected to be available starting in spring semester, with a nine-month benchmark for initial employability, continuing to a year for next-tier technician roles.
Biotechnology and biopharmaceutical Accelerated Training programs continue growing
Columbus State launched its initial biotechnology bootcamp curriculum in 2022 in collaboration with major area gene therapy employers including Amgen, Andelyn Biosciences and Forge Biologics. This short-term certificate offers clean room production principles to those who have already earned higher education biotechnology credentials and only need to learn aligned manufacturing basics.
Building on that initial success, the college has created biotechnology and biopharmaceutical short-term certificates within its Accelerated Training Centers programs to skill up workers who may have aligned manufacturing or healthcare backgrounds. Participants may have limited or no experience in the fields. Completers of biopharmaceutical Accelerated Training Center certificates are prepared to become biomedicine production technicians, then may choose to continue on to earn biotech certificates that teach the higher-level stage of gene therapy development.
These programs are anticipated to grow in fall, including within new center locations anticipated to come on line in the third or fourth quarter of 2024.
Early-stage work in progress on emerging EV curriculum
Columbus State is in early discussions with Honda, a longtime employer partner and the initial collaborator in the college's Modern Manufacturing Work Study curriculum, to leverage its certificate model for short-term training ultimately scalable to a degree for EV jobs coming to Central Ohio soon. Honda is rapidly working to fulfill its Ohio investment commitment to transform its vehicle production to EV over the next several years.
Rising to meet construction worker demand
Columbus State's Construction and Skilled Trades programs are on track for a double-digit year-over-year enrollment increase, returning to pre-pandemic levels as these professions boom throughout Central Ohio. The college welcomes skilled trades commitments announced today to increase area apprenticeship opportunities, which will benefit Columbus State students studying in these disciplines.
Investing in healthcare education outcomes
Columbus State announced in June its partnership with OhioHealth to jointly invest $120 million toward a 10-year goal to double healthcare graduates in key disciplines critical to eliminate worker shortages and sustain growth within the region. The partnership will create a new downtown campus training center, major renovations and sustained faculty and instructor growth.
Rapid growth of in-demand IT programs
Columbus State continues to see double-digit growth in key IT degree enrollment: software development, cybersecurity and network administration. The college is also at the halfway point in creating a data analytics degree, currently offering a one-year certificate in the IT discipline. Other academic areas are looking to replicate the Information Systems Technology department's success creating fully online degrees utilizing hybrid in-person/online "high-flex" classrooms, enabling students from throughout Ohio to access these in-demand and highly employable programs.
Steering committee
The steering committee for the Columbus Workforce Hub initially includes representatives of the following organizations:
Amgen
Andelyn Biosciences
City of Columbus
Columbus Building Trades Council
Columbus City Schools
Columbus Partnership
Columbus State
Franklin County
Governor's Office of Workforce Transformation
Honda
Intel
Mid-Ohio Regional Planning Commission
Nationwide
One Columbus
The Ohio State University
Workforce Development Board of Central Ohio
About Columbus State
Serving more than 40,000 students annually, Columbus State is the largest community college in Ohio. The college has been nationally recognized for advancements in student success and workforce innovation, including the prestigious Leah Meyer Austin Award.
Among other collaborations to enhance student success and career opportunities, Columbus State convenes the Workforce Advisory Council, comprised of the chief talent officers of the largest employers in the region; co-facilitates the Central Ohio Compact, an alliance of leaders from K-12, higher education, employers, and social service groups focused on student achievement; and partners with four-year universities to offer debt-free pathways to bachelor's degrees.
Go to 2023 Archive Go to Campus News