Student Central
Student Central, located on the upper level of Madison Hall, is here for guidance and assistance you need to be a successful student. The Student Services Specialists at Student Central are well versed in every area of Columbus State and will work closely with you to find answers and connect you to the resources you need.
In an effort to keep you and the rest of the Columbus State community healthy, the following services are available by phone, email, chat, and in-person.
Visit the Virtual College Resources page to learn about the virtual services available.
Chat Live: Click the chat icon on the lower left-hand side of this page.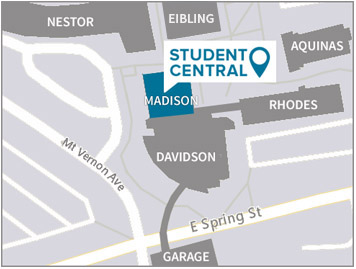 Madison Hall, Upper Level
518 Mt. Vernon Ave.
Columbus, OH 43215
614-287-5353
information@cscc.edu
Services
Extended Service Hours begin Saturday, May 21 through Friday, June 3. Extended hours listed below.
CHAT ONLINE
Monday

8:00 am - 4:30 pm

Tuesday, Wednesday & Thursday

8:00 am - 6:30 pm

Friday

8:00 am - 4:00 pm

Last Saturday of the Month*

*05/21, 05/28, 06/25, 07/30

9:00 am - 11:30 am
IN-PERSON DROP-INS
Monday

8:00 am - 5:00 pm

Tuesday, Wednesday & Thursday

8:00 am - 7:00 pm

Friday

8:00 am - 4:30 pm

Last Saturday of the Month*

*05/21, 05/28, 06/25, 07/30

9:00 am - 12:00 pm

During an in-person visit, the following safety measures are encouraged:
Wear a face covering (optional);
Allow six feet of social distancing; and
Limit the number of guests you bring with you.
Cougar ID Cards
Cougar ID card services are available by appointment only for the Columbus campus. Before scheduling an appointment and receiving an ID card, the criteria listed below must first be met. Click here to make an appointment.
Individuals who would prefer to obtain a Cougar ID card from the Delaware campus may call 740-203-8345.
*At the time of the appointment, students and employees must present a valid government issued photo ID: Driver's License, State issued ID card, green card, passport, or current US Military ID.
Students:

Students may receive their student ID cards after registering for classes and tuition and fees have been paid. This ID card may be used each semester and updated with a validation sticker per semester once the above criteria are met.

Replacement ID cards are charged a fee of $4.00. This fee must be paid beforehand by contacting the Cashier's office at 614-287-5658. Once payment is made, a receipt is emailed to the student, and then an ID appointment may be scheduled. Replacement IDs needed, due to a name change, are not assessed a fee.

Employees:

IDs are issued to currently employed faculty and staff. To be eligible for an ID card, faculty must be scheduled to teach in the current or upcoming semester.
Frequently Asked Questions (FAQs)
We value your feedback. Please tell us what you think of Student Central by completing this short satisfaction survey.
---
Announcements
Summer Semester
Registration begins February 21

21/22 FAFSA Priority Deadline April 15

Fee Payment Deadline May 25

Classes begin May 30

Summer Semester ends August 13

Please visit the Academic Calendar for additional dates and deadlines.
Autumn Semester
Registration begins April 18

22/23 FAFSA Priority Deadline July 15

Fee Payment Deadline August 24

Classes begin August 29

Autumn Semester ends December 17