Accessibility Services
Spring Break Hours - March 13, 2023 - March 18, 2023

Monday, 3/13 - 9:00am-5:00pm
Tuesday, 3/14 - 9:00am-5:00pm
Wednesday, 3/15 - 9:00am-5:00pm
Thursday, 3/16 - 9:00am-5:00pm
Friday, 3/17 - 9:00am-3:00pm
Columbus State Community College offers a wide range of support to encourage the enrollment of people with disabilities. Located in Eibling Hall 101, the Accessibility Services office provides services to qualified students with disabilities for all Columbus State locations.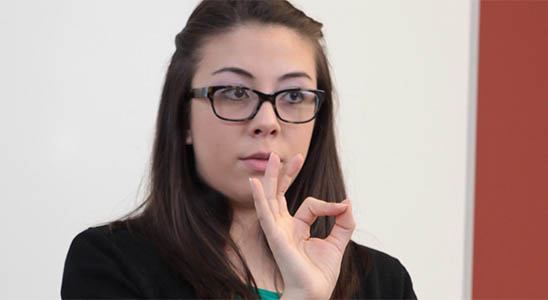 Connect with us via phone (614-287-2570) or email (disability@cscc.edu) for additional information.
Employee accommodation requests should be directed to the ADA Program Coordinator, Michael Hicks.
---
Accessibility Services Quick Reference
Step 1: Obtain disability documentation
Common forms of documentation include, but are not limited to:
An IEP and ETR or 504 Plan
OR
Step 2: Submit your documentation for review by an Accessibility Advocate.
Step 3:

Check your email

for an invitation to your intake meeting.
Your Advocate will contact you via email to set up a time and date for the Intake Interview.
Services we provide
Student Advocacy
Testing Accommodations (extended time, audio, distraction-reduced testing space, height adjustable desks, etc.)
Assistive Technology
Alternate Media (E-text, Braille, Large print)
Sign Language Interpreting
Captioning Services
Note-Taking Accommodations
Temporary Services (e.g. due to an injury, accident, or short-term illness)
Resources on Disability Issues
Other Services Based on Need
Hours of Operation
Monday - 8:00am - 5:00pm
Tuesday - 8:00am - 5:00pm
Wednesday - 8:00am - 7:00pm
Thursday - 8:00am - 5:00pm
Friday - 10:00am - 4:30pm
Last Saturday of the month - 9:00am - 12:00pm
Intakes can be scheduled up to an hour before close.
Walk-ins available until 30 minutes before close.
For testing hours, check here – Testing Hours of Operation
To request an appointment, please utilize our AS Appointment Request Form.
Accessibility Services Videos
Quick Links
For Students:
Alternate Media Request Form

Frequently Asked Question Sheet for New and Prospective Students
How to Use Your Letter of Accommodation (LOA)
Campus Event/Meeting Accommodation Request form
Netiquette 101: Tips to Participating in a Virtual Classroom
Opportunities for Ohioans with Disabilities College Funding Support
Scholarship Opportunities for Students with Disabilities
Service Animals ADA Requirements Information Sheet
Service Animals - FAQs under ADA
Student Documentation Request Form
For Instructors:
Accessibility Services Instructor Training Module
Testing Services - Guidelines and Best Practices for Faculty
How to Provide 2x time/Test Availability Exceptions for Blackboard Tests and Quizzes
Epilepsy Foundation - What to do in the event of a seizure?
Department Contact
Academics Department
(614) 287-0000