Disability Services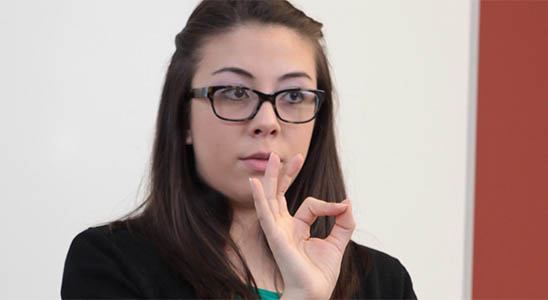 Columbus State Community College offers a wide range of support to encourage the enrollment of people with disabilities. Located in Eibling Hall 101, the Disability Services Office provides services to qualified students with disabilities for all Columbus State locations.
---
Disability Services Quick Reference
Step 1: Obtain disability documentation
Common forms of documentation include, but are not limited to:
An IEP and ETR or 504 Plan
OR
Step 2: Submit your documentation for review by a Disability Services (DS) Advocate.
Step 3:

Check your email

for an invitation to your intake meeting.
Disability Services is Now a Fragrance-Free Zone!

The chemicals used in scented products can make some people sick, especially those with fragrance sensitivities, asthma, allergies and other medical conditions.

Disability Services staff are committed to being fragrance-free for the health and comfort of our students, staff, and visitors.

Please join us in keeping the air healthy and fragrance-free when visiting our space. Thank you!
Services we provide
Student Advocacy
Testing Accommodations (extended time, audio, distraction-reduced testing space, height adjustable desks, etc.)
Assistive Technology
Alternate Media (E-text, Braille, Large print)
Sign Language Interpreting
Captioning Services
Note-Taking Accommodations
Temporary Services (e.g. due to an injury, accident, or short-term illness)
Resources on Disability Issues
Other Services Based on Need
Hours of Operation
Advocate Intake Hours (By Appointment only) **
Monday 8:00am-4:00pm
Tuesday 8:00am-4:00pm
Wednesday 8:00am-4:00pm
Thursday 8:00am-4:00pm
Friday 9:00am-4:00pm
**Walk-in appointments available with Advocates 8:30am-4:30pm Monday, Tuesday, Wednesday, and Thursday; 9:00am-4:00pm Friday.
Testing Center Hours*
Monday 8:00am-6:00pm
Tuesday 8:00am-5:00pm
Wednesday 8:00am-5:00pm
Thursday 8:00am-6:00pm
Friday 9:00am-4:30pm
*Students arriving less than 1 hour prior to close will be issued a Test Denial. Tests must be completed by closing time.
Quick Links
For Students:
Accessible Parking Locations -- Autumn Semester 2018
Alternate Media Request Form

Frequently Asked Question Sheet for New and Prospective Students
How to Use Your Letter of Accommodation (LOA)
Scholarship Opportunities for Students with Disabilities
Student Documentation Request Form
For Instructors:
Blackboard/Online Assessment Testing - Information Sheet
DS Test Administration Request Form (please download to obtain fillable PDF)
Department Contact
Academics Department
(614) 287-0000