Welcome to the Official Columbus State Bookstore!
Bookstore Announcements
With the Covid-19 pandemic continuing to impact Ohio, the physical bookstore will remain closed to the public for Spring Semester 2021. For general coronavirus updates, please see Coronavirus Info & FAQs. (updated: 2/26/21)
Online Ordering
Find all your required course materials for classes and more at bookstore.cscc.edu with free UPS domestic ground shipping until 7/31/2021.
Important Bookstore Dates for SU21
May 19
CCP Bookstore Voucher and Third-Party Sponsorship payment method will be available to use online. Students must have approved funding for orders to be processed.
May 21
Financial Aid Bookstore Allowance/Student Account payment method will be available to use online starting at 12 Noon. Students must have approved funding for orders to be processed.
May 31
First day of Summer Semester (Memorial Day – Campuses closed)
June 14
Return deadline
June 28
Last day to purchase online using Financial Aid or Vouchers.
Note: CCP Vouchers and Third-Party Sponsorship may be extended for students taking late term courses.
July 7
Financial Aid credit balances released to students by Columbus State.
Online Return Process
Returns will be processed on items in original condition only, within the return deadline. Anything opened or used is non-returnable. Please ship returns to the Columbus State Bookstore at your expense with a receipt, your full name, and Cougar ID number:
CS Bookstore, Attn: Web Returns
283 Cleveland Ave, Columbus, OH 43215
(Please allow 3 – 5 business days for processing)
Student Uniforms and Supplies
The Columbus State Bookstore offers a complete selection of required academic program uniforms, supplies (stethoscopes, kits, etc.), and RN/LPN graduation pins.
Learn more about Uniforms and Supplies
Sell Books Back Online
The Bookstore has partnered with Nebraska Book Company to offer a virtual buyback. The quotes given are based on the national supply and demand. As a result of physical locations being closed, the following are suspended until further notice: daily in-store buyback and bookstore events.
Gift Cards
Columbus State Bookstore gift cards and Subway gift cards are available to purchase online. To use your Columbus State Bookstore gift card for an online purchase, simply choose gift card as a payment option and enter the gift card number during the check-out process..
Instant Access
Instant Access courses offer students immediate access to course materials on Blackboard the first day of class, all at a reduced cost.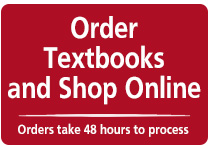 QUICK LINKS