Columbus State and partners to expand student housing assistance with $2 million in city funding for Success Bridge program
Campus News | Monday, July 31, 2023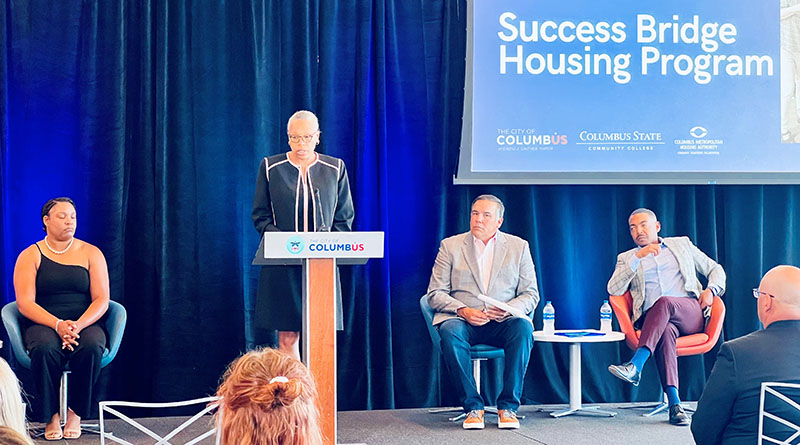 Above, left to right, TaVonna Wilson, a Columbus State graduate supported by Success Bridge, Columbus State Vice President of Student Affairs Desiree Polk-Bland, Columbus Mayor Andrew J. Ginther, and Columbus City Council President Shannon G. Hardin.
---
Columbus Mayor Andrew J. Ginther and City Council President Shannon G. Hardin today announced that the city would provide $2 million to extend the Success Bridge program, which supports Columbus State students who face housing insecurity or homelessness.
The new funding for Success Bridge extends the program beyond its initial pilot phase, during which approximately 450 Columbus State students received housing information and referral support. The pilot, which began in 2020, received funding support of approximately $1.5 million from Columbus Metropolitan Housing Authority and private philanthropy, including Bath & Body Works Foundation, Fifth Third Foundation and the Beatrice I. and Alan R. Weiler Fund.
"Success Bridge has a proven record of helping our students continue their education without getting caught up in life circumstances that can take them off track," said Desiree Polk-Bland, Columbus State vice president of student affairs. "The city's financial backing comes at a time of rapidly rising housing costs in a market that already lacks sufficient affordable options. This funding will enable us to continue the best practices in supporting housing security that we already know are successful in getting our students across the finish line to their credential, with the higher earning power and life stability that comes along with it."
Legislation before Columbus City Council today will authorize $400,000 of the city's federal Emergency Rental Assistance (ERA) to be spent on housing-focused case management serving Columbus State students. Another $1.6 million in available ERA funding will be available to Success Bridge participants to pay housing costs.
Success Bridge will continue with original partners CMHA, Affordable Housing Alliance of Central Ohio, Community Shelter Board and the Home for Families working with Columbus State to support students with eligible housing support needs.
"In Columbus, housing should never hinder education or personal growth. By guaranteeing that college students have access to safe and stable housing, we are investing in their future and empowering them to focus on their studies and dreams without the stress and fear caused by housing instability," Mayor Ginther said. "This program is a testament to our commitment to equitable opportunities for all, and our belief that everyone in Columbus deserves a chance to thrive and succeed."
"As a champion of the Columbus Promise, I couldn't be more excited that the Success Bridge Program will lift the burden of finding quality affordable housing while Promise Scholars complete their degree," Council President Hardin said. "All of our students deserve the opportunity to advance their future without fear of financial hardship."
During the past three years, Success Bridge provided 57 students with one-time and short-term financial assistance to help stabilize their housing situation, and 33 received placement in apartments dedicated to program participants.
Short-term assistance students all found secure permanent housing after exiting the program, and nearly 75 percent of the students placed in program apartments emerged into permanent housing solutions. Students with financial assistance or apartment placement support realized statistically significant gains in retention of good academic standing, enrollment persistence and degree completion.
Because of its positive impact bringing together a coalition of housing support partners, Community Shelter Board recognized Columbus State with its inaugural Heritage Innovation Award in April at its annual Under One Roof event.
CITY AWARD COMPLEMENTS RECENT FEDERAL STUDENT BASIC NEEDS SUPPORT GRANT
The U.S. Department of Education recently awarded Columbus State nearly $1 million to support student food and transportation access. This will enable the college to strengthen its support for students facing food insecurity and difficulty accessing consistent affordable transportation, by expanding partnerships with Mid-Ohio Food Collective and COTA, and also will fund new case management and social worker positions to connect students with other supportive services within and outside of the college.
The federal grant will:
Add student access to unfrozen perishable food items (including milk, butter and eggs) and curated meal boxes through the Mid-Ohio Market at Columbus State and assist eligible students in enrollment for federal SNAP benefits.
Pilot fully funded COTA vouchers for more than 1,000 selected students, to quantify their beneficial impact on student success.
Provide laptops and hotspots to students who won't otherwise be able to persist, so that they can continue and complete their coursework.
Connect students through consistently accessible on-campus case management to additional benefits available at the local, state and federal levels, dependent on their circumstances.
COUNTY VOTER-FUNDED CAMPUS CHILD CARE CENTER ON TRACK FOR FALL OPENING
Columbus State is also advancing student basic needs support with the final stages of its downtown on-campus child care center construction, which will enable operator-provider The Childhood Development Center of Franklin County, Inc. to apply for licensing permits to open soon, anticipated within early fall.
The center will prioritize eligible student-parent and college-employee families among its 94 initial openings, which are income-eligible for no-cost or discounted cost enrollment. Inquiries about center operations employment or enrollment can be directed through www.cdcheadstart.org.
"We know our students' everyday life needs that can derail their education primarily center around housing, food, transportation and childcare," Dr. Polk-Bland said. "We are so grateful for the city's housing support helping us keep all of these life-improving programs moving forward together."
Go to 2023 Archive Go to Campus News