Women's HERstory Month at Columbus State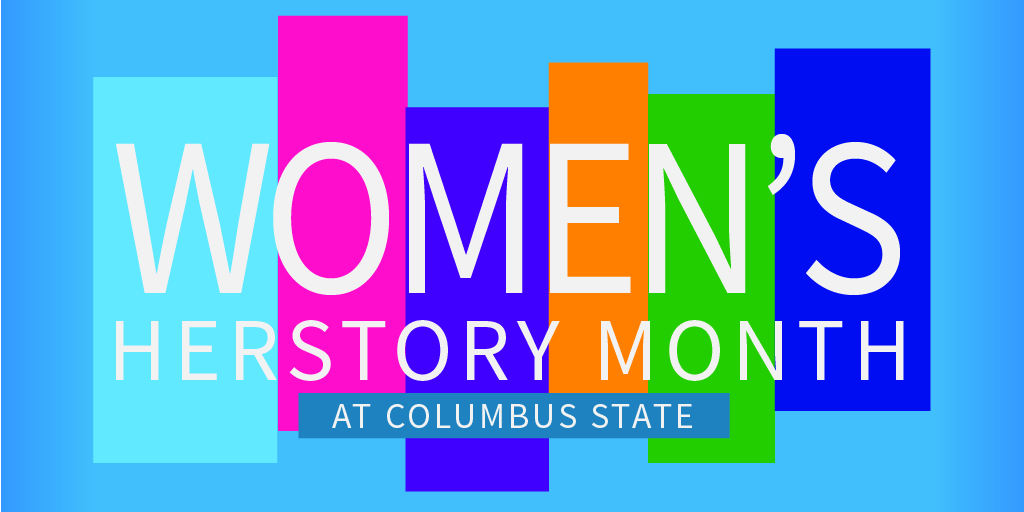 March is Women's HERstory Month and Columbus State is celebrating all month long. From live events to on-demand learning opportunities, we're highlighting female-identified individuals in our community and beyond, both past and present. The month of celebrations will culminate in our Thirty-Second-Annual Women's HERstory Month Awards Celebration and Sixth-Annual Women's Leadership Summit, where people across the community and Columbus State will virtually come together to lift each other up and celebrate.
Access to all virtual events is available from this page. All events are free of charge and open to the public. Please note, for the Women's Leadership Summit, the keynote and breakout sessions will be hosted via unique links. (Attendance limits may apply.)
Accommodation Requests: If you need to request a sign language interpreter for any event, please submit your request to interpreterrequest@cscc.edu. To ensure availability, it is important to request interpreting services as soon as possible. If you need to request any other ADA accommodations to attend any event, please contact Michael Hicks, ADA Coordinator, at mhicks25@cscc.edu or via telephone at (614) 287-2883.
If you have any questions, feel free to submit them to herstory@cscc.edu
Career Services
Strong Woman Wednesday: Meet The Professionals
Will take place every Wednesday at noon in March except during Spring Break
March 3: Meet the Physician Assistant
March 10: Meet the Equine Facilitative Counselor
March 24: Meet the Nonprofit Professional
March 31: Meet the Physical Therapist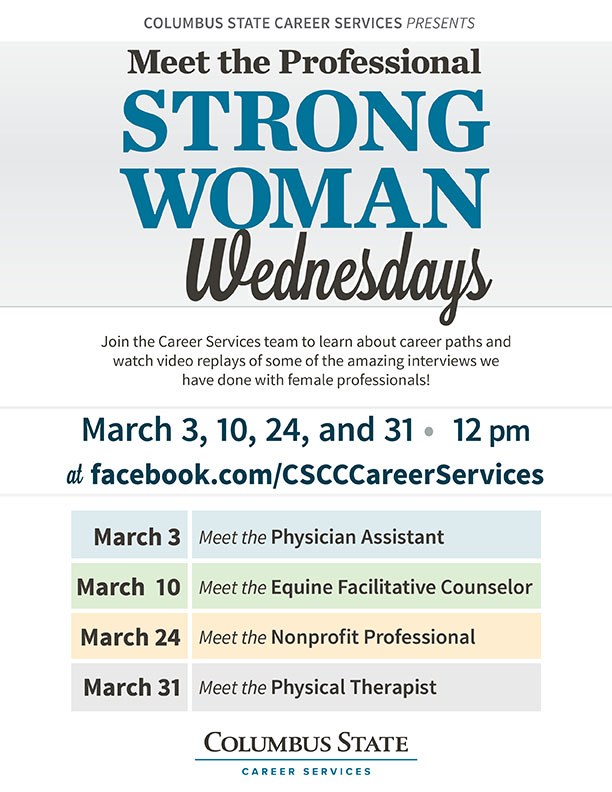 Career Services flyer
Health & Wellness
Brain Breaks (Microsoft Teams)
Host: Grace Howard, College of Recreation & Wellness
SpringBrainBreak(15min) Every Wednesday 12:30 p.m.
---
March Movement Sessions
Join Dr. Nic for a 30-minute Zumba stress-relieving movement session. Details: mid-day break, no previous dance experience required; sneakers, space and open mind.
Monday, March 15
Noon
Join Zoom Meeting Here
Meeting ID: 840 2191 9867
Tuesday, March 30
Noon
Join Zoom Meeting Here
Meeting ID: 862 2120 6701
The Thirty-Second-Annual Women's HERstory Month Awards Celebration
Columbus State Community College is proud to present the Thirty-Second-Annual Women's HERstory Month Awards Celebration. The Awards will feature a Welcome Address from Executive Vice President Dr. Rebecca Butler, and recognition of students, staff, and faculty who exemplify outstanding leadership from 2020 and 2021.
Outstanding Woman Leader Award
This award celebrates the leadership of Columbus State students and employees. Five to ten current students and employees around the college will receive this award.
Nominees for this role serve as role models and provide excellent leadership in their profession and/or studies. They also embody the following attributes:
Exemplifies service above self through civic and/or community engagement
Demonstrates Columbus State's values:

Student Success
Inclusion
Quality
Innovation
Learning
Partnership
Stewardship
Leadership
Legacy in Leadership Award
Recipients of this honorary award are individuals that have served at Columbus State for five years or more and are currently employed at the institution. The founding purpose of this award is to celebrate those that exhibit a "heart of service" and fight for equity, for all students.
They exhibit a strong ability to recognize the talents, potential, and emerging abilities of those they lead and interact with on a daily basis. They can see the potential people possess and have a major impact on the lives of others because of this ability. In their profession and with people, they demonstrate the qualities of trustworthiness, compassion, efficiency, integrity and other effective leadership qualities. They desire to improve the world we live in and tirelessly work to identify emerging needs of students and the community. They believe that community service is important on an individual and organizational level.
The Sixth-Annual Women's Leadership Summit
Columbus State is proud to present the sixth-annual Women's Leadership Summit. The Summit is designed to provide meaningful intergenerational connection opportunities in addition to focusing on leadership development and personal and intellectual growth. The Summit will feature a Welcome Address from Vice President of Student Affairs Dr. Desiree Polk-Bland, Keynote Speaker Kaydian Comer, and inspiring sessions offered by members of the Columbus State community and from around the country.
LEADERSHIP SUMMIT
---
U.N.I.T.Y.
This year's theme, "U.N.I.T.Y" serves as the anchor for the break-out sessions and the main keynote:
U: Universal | This sub-theme focuses on women helping, serving and advocating for others.
N: Networking | This sub-theme focuses on mentorship and developing relationships.
I: Inclusion | This sub-theme focuses on cultivating social equity, expanding inclusive spaces and understanding thereof.
T: Transform | This sub-theme focuses on women empowerment, leadership representation, and entrepreneurship.
Y: You Matter | This sub-theme focuses on women's mental health, understanding oneself and their needs and the importance of self- care.
The 6th Annual Women's Leadership Summit attendees are invited to submit their feedback about the Summit by using this Leadership Summit Feedback Form. All attendees who submit their feedback via this form will be entered into a raffle.
---
Breakout Session I, 2 p.m.-3 p.m.
Option 1
From Hopeful to Harvard and Everything In Between: How to Build An Effective "Net" that Works
In a world that is so technology driven, a person can easily find themselves lost in the vortex of social media apps and still not build networks that serve them. This session will engage participants in the fundamentals of networking from an applied learning example. Participants will have an opportunity to learn from the presenter some person-to-person methodologies and technological techniques. An added bonus will be an opportunity for networking in action. They will have the opportunity to learn from and network with one another. From family, to community, school, and career, this session will support each participant in many aspects of their respective journeys.
---
OPTION 2
Overcome Imposter Syndrome: How to Act Boldly, Think Big, and Increase Your Confidence
Have you ever suffered from feeling like you're not good enough or don't have what it takes to be successful? Do you constantly doubt yourself and your abilities? Are you a workaholic and always trying to measure up? You may suffer from Imposter Syndrome. In this workshop, you will learn how to go from feelings of not being enough to thrive in your purpose, how to stop self-sabotaging, overcome self-doubt and fear, and take the necessary steps to become the best version of yourself.
---
Breakout Session II, 3:10pm-4:10pm
OPTION 1
How to Make Meaningful Connections to Get Ahead
Grace Reyes, the CEO of The Investment Diversity Exchange (TIDE), is known within the investment industry as one of the most consummate connectors. She has been recognized by Forbes, Entrepreneur and Thrive Global. Join Grace as she shares tips and insights that will help level up your self-branding techniques and boost your networking skills.
---
OPTION 2
Virtual Cooking Class with Hospitality Coordinator Allison Hendricks (The Mid-Ohio Market at Columbus State)
Join Columbus State Hospitality Coordinator Allison Hendricks for a delicious and exciting virtual cooking class that incorporates ingredients from The Mid-Ohio Market at Columbus State. The Mid-Ohio Market is a resource for students and community members to access free, fresh, and shelf-stable food on a regular basis.
More about The Mid-Ohio Market at Columbus State
Market Hours (Curbside service only)
Monday: 11 a.m.-4 p.m.
Wednesday: 3 p.m.-7 p.m.
Thursday: 11 a.m.-4 p.m.
Closed Friday-Sunday
Featured Musical Artist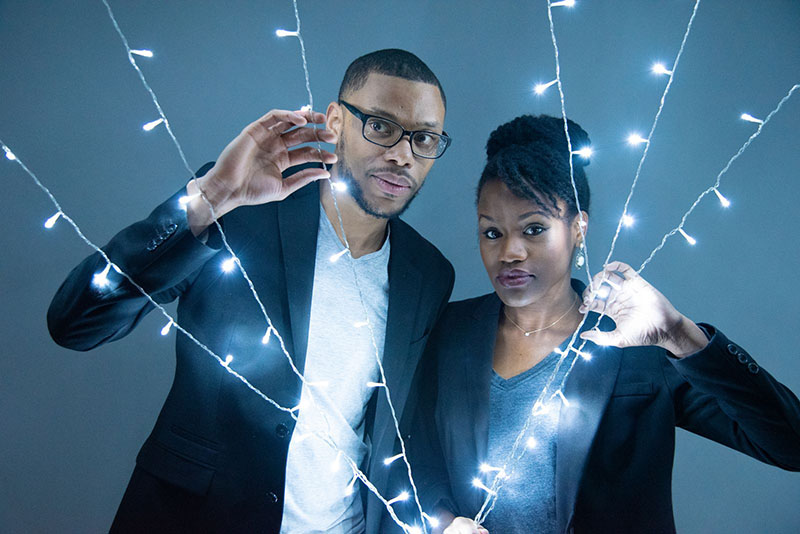 Special musical performances by Starlit Ways will be featured during the 32nd Annual Women's HERstory Month Awards Celebration and the 6th Annual Women's Leadership Summit. Formed in 2014, Starlit Ways is an acoustic duo made of singer/songwriters Rose Nkechi Onyeneho and Chris Glover. Rose is a Columbus State alumni and a former Student Ambassador.
The duo performs an eclectic range of musical genres from originals, jazz-age classics, and modern tunes. Rose's truly gifted vocals (spanning multiple dialects including French, Spanish and Italian) combined with Chris's guitar abilities and harmonies, create a unique sound that reflects their talents and passion for music.
More Resources and Programs
Columbus State Library
Check out the Library's informative and engaging social media posts highlighting Women's HERstory Month:
Instagram | Twitter | Facebook
The ongoing programming will feature the work and words of inspiring and influential women across the world and through the years
Inspiring quotes
Trailblazer birthdays
Fun and informative content like a "Did You Know" series and a "Guess Who" series
An original video that highlights some of history's most influential women
The Library has also assembled a great companion guide for Women's Herstory Month
---
Global Diversity and Inclusion
Social Media Women's HERstory Month Themes:
Week 1: Launching Women's HERstory Month
Week 2: Smashing Stereotypes, March 8th International Womens Day
Week 3: Visionary Women: Champions of Peace and Nonviolence
Week 4: Weaving the Stories of Womens Live
Week 5: Supporting Women Owned Businesses
---
Employee Resource Groups
Employee Resource Groups (ERGs) allow members to connect with other employees who share similar interests and a common bond or background. These employee-led groups are designed to meet the unique needs of each affinity or identity, and aid in fostering a diverse, inclusive workplace aligned with the College's mission and values.
Reach out to the contacts for meeting information: