Speaker Bios
Keynote Speaker: Dr. Janell Jones


Dr. Jones is a TEDx speaker, certified life coach, a national and international best-selling author, and a licensed clinical therapist. Dr. Janell Jones was born into poverty and raised in the projects of Columbus, Ohio. She lost her father and sister to inner-city violence as a child and was a teenage mother at 17. She was determined to live a different life than the one she saw played out around her. She shares the extraordinary story of how she took the leap that awakened her to her purpose and destiny. Dr. Jones is the founder of Melanin Grace Publishing, LLC, a publishing company, and created the "Mahogany, Beautiful Bright Me" program to help girls with self-love and self-acceptance. She also has the "Girl, You Got This" Podcast to empower women to live their dreams. Dr. Jones coaches women and helps them get clear and monetize their purpose.
Musical Performance: Starlit Ways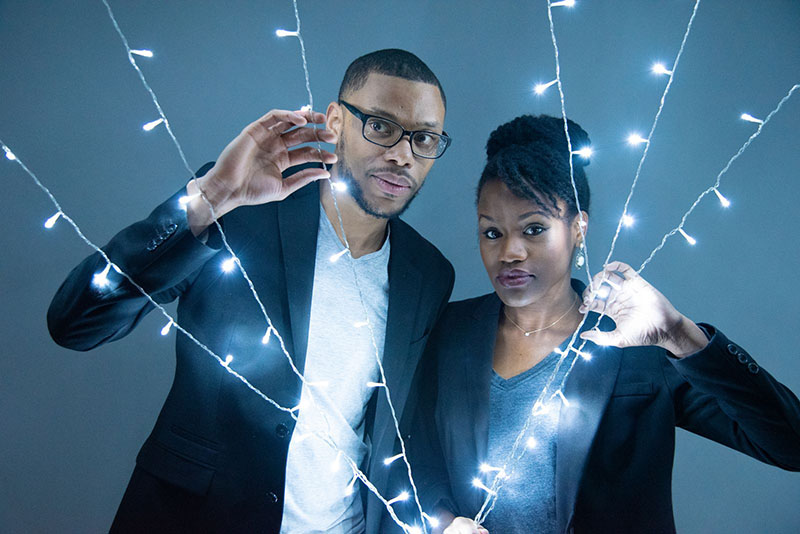 Special musical performances by Starlit Ways will be featured during the 33rd Annual Women's HERstory Month Awards Celebration and the 7th Annual Women's Leadership Summit. Formed in 2014, Starlit Ways is an acoustic duo made of singer/songwriters Rose Nkechi Onyeneho and Chris Glover. Rose is a Columbus State alumna and a former Student Ambassador.
The duo performs an eclectic range of musical genres from originals, jazz-age classics, and modern tunes. Rose's truly gifted vocals (spanning multiple dialects including French, Spanish and Italian) combined with Chris's guitar abilities and harmonies, create a unique sound that reflects their talents and passion for music.
Barbara Allen
Barbara Allen celebrates the joyful connections between inclusion and leadership in all she does. For over 21 years, she has served Columbus State in many different capacities focusing on spaces where "everyone matters." She especially loves working closely with students, staff and faculty to build community. Her favorite contribution is her current work as Assistant Director of Employee Engagement and Belonging, EEB, leading the college-wide compassion and care initiatives to support the extended community using creative expression including storytelling, outreach, and authentic communication. Barbara has been an improvising artist and educator for over 12 years as a founding member of both Columbus Unscripted and Sassy Do Improv. She was humbled and honored to share improv as an invited speaker at TEDx Columbus Women 2013 and was a featured teller at the Speak Easy's 2015 annual celebration of story, The Big Easy. Barbara was named Columbus State's Legacy in Leadership Award winner for 2018. She looks forward to a fall 2022 publishing date for a chapter she completed for an academic press focusing on compassion and care efforts for the community college community during the pandemic.
Grace Howard
Grace initially explored various career paths, from dental hygiene to radiology. After losing over 50 pounds and battling with exercise-induced asthma, she chose to change her major to sport and exercise studies here at Columbus State. While a student at Columbus State, Grace was awarded the Exercise Science Student of the Year recognition in 2014. Her knowledge includes over five years of experience in the health and wellness field including, but not limited to, personal training, group exercise, wellness coaching, and diabetes prevention and control. Grace has a passion for helping others discover their individual path to achieving fitness goals and improving their overall health and wellness. In her free time, Grace enjoys cooking, reading, weightlifting, cycling, and various outdoor sports. Grace holds a bachelor's degree in exercise science from Capital University and an associate degree in sport and exercise studies from Columbus State. She is also a ACSM Certified Personal Trainer and holds a Level 1 Nutrition Coach certification through Precision Nutrition.
Julie Holbein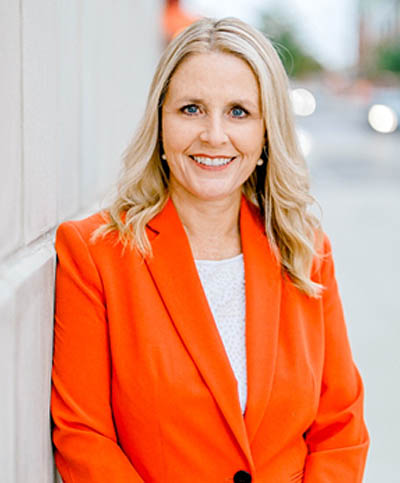 Julie Holbein joined Big Lots in 2018 and is the Vice President of Talent Development. In this role, she and her team are responsible for the overall talent development strategy for 35,000+ associates across the country. This includes building functional, technical, and leadership capabilities. Additionally, her team owns the performance and talent management processes, organizational development, and culture initiatives.
Before joining Big Lots, Julie was the VP of Global Talent and Leadership Development for AECOM, a Los Angeles-based global engineering and construction management organization with 70,000 employees in over 150 countries. She and her team were responsible for various areas of talent management including leadership development, performance management, and succession planning. Prior to AECOM, she spent 10 years at Cardinal Health based in the Columbus, OH area. There she held several roles including Director of Global Talent Management and Director, HR Business Partner.
In addition to her 20+ years of work experience, Julie holds a Master's Degree in Organizational Development from Capella University and a Bachelor's of Science in Organizational Communication from Ohio University. She also has her Professional in Human Resources certification from the Society of Human Resources Management [SHRM] and is a DDI certified Master Trainer.
Outside of work, Julie is currently serving on the Columbus State Community College Foundation Board of Directors and as a Campaign Co-Chair for Girl Scouts of Ohio's Heartland's Dream Big STEM Center of Excellence project. Prior, she served Girl Scouts of Ohio's Heartland as a Past Board of Directors Chair and member and was the former President of the Human Resources Association of Central Ohio.
Sara Netere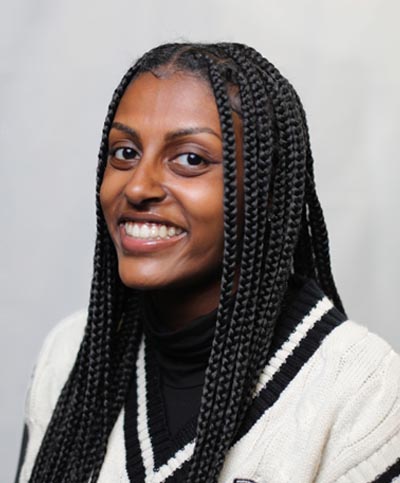 Sara Netere is the Student Ambassador at Columbus State that oversees Clubs and Organizations. She currently is serving in the Women's HERstory Month Committee this year. She also served as the Collegiate Leadership Conference of Ohio Recruitment Chair. She is also part of The Black Student Union, Women's Connection and The National Society of Leadership and Success. She is currently pursuing her associate degree in Dental Hygiene. Once she becomes a Dental Hygienist, she envisions herself to one day provide affordable dental care to marginalized communities that do not have the access nor resources to gain dental work. She wants to be able to give back to others that are low income because she knows how it feels to not be able to afford health care. To be able to put a smile on someone's face and to relieve the stress they might be dealing with is something she is determined to do for her community. Outside of school Sara likes to spend time with family, painting, and journaling.
Ella Bwonya
Ella is the Women's HERStory Month Committee Student Chair and also serves as the Student Ambassador Coordinator for Leadership and Women's Connection. Ella was born and raised in Nairobi, Kenya and developed a deep passion for painting. She is studying both Biology and Psychology here at Columbus State. Ella is very involved with the campus community. She is an Honors student, the President of the Black Student Union, former Vice President of Service at Phi Theta Kappa and an Officer of the International Student Association. Some of the other organizations she is involved in are The National Society of Leadership and Success, Women's Connection and the STEM Club. She is also the student representative for Columbus State's Board of Trustees, and also serves on the Student Conduct Hearing Board. Selected as one of the students to attend the Mid-East Honors Association this April, Ella came in third place for her poster presentation on Food Deserts. She was also one of the school's recipients of the Civil Rights Heritage Tour scholarship which enabled her to travel across 6 states, reliving the struggle of renowned Civil Rights Activists. At the annual Mayor's conference in February, she had the opportunity to meet and take a picture with Mayor Andrew Ginther. Ella has won many scholarships this year, including the revered George Floyd Scholarship. She balances all her co-curricular activities and academics, maintaining a 4.0 GPA.
Jasmine Wooten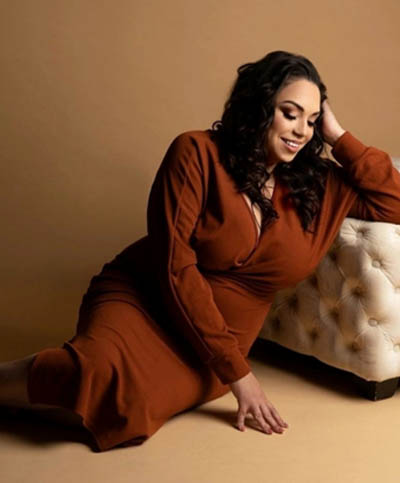 Jasmine Wooten is a Columbus State Alumni, professional artist and recently earned her MSW. She is a mother of two and was born and raised in Columbus, OH. She grew up passionate about creating and the freedom artistic expression has on one's soul. In a world full of trauma and darkness, she wishes for her art to be a source of reflection and a celebration of human uniqueness, amplifying the authenticity of the cultural experiences of black and brown people. It is her aspiration that the pieces she creates by exploring various mediums, textures, and materials tell stories of strength, beauty, and resiliency while inspiring solidarity among her community and allies. Additionally, she hopes her art reflects the lessons she teaches her two children; and the positive impact of creative expression on the human spirit. During Women's HERstory Month, Jasmine Wooten will have an art gallery featured at Columbus State Library. More details to come.
Department Contact
Academics Department
(614) 287-0000