Short-Term Classes
Whether you are ready to start your first semester at Columbus State or you're already a student, it's not too late to sign up for spring classes with our short-term options:
Twelve-week classes start February 18 and include many required and elective general education options such as math, english, and psychology.
NOTE: Registration for spring semester online twelve-week classes has closed. Registration for each on-site class closes on the day and starting time of the first class session.
Eight-week classes start March 17 and include COLS 1100 and other general education classes, as well as major-specific courses in computer science, GIS, business, hospitality and more.
Same content, fewer weeks: Short-term classes contain the same content as full-term classes, so you don't miss a thing! Condensing the information into a shorter term means more material will be covered each week.
Find Short-Term Classes
Go to the Spring 2019 Class Schedules.
In Select Subject, scroll down to select "8 Week Terms" or "Other Flex Terms" and click Go
(see screen shot below).


NOTE: 5-week classes are open only to students in Aviation Maintenance and the Nursing Certificate (STNA) program and fill quickly.

Find a class that fits in your schedule.
Check the "Seats Avail" column on the right-hand side of the page to make sure there are still spaces in the class. (If the number is "0" or less, the class is full.)
Register for your class through CougarWeb for Students.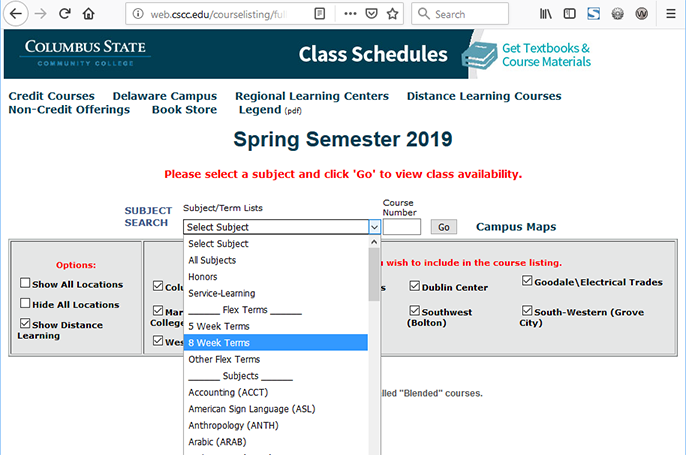 NEW STUDENTS
Need help choosing classes? Sign up for a New Student Workshop where you'll create the schedule for your first semester, and learn other important information about how to get a great start at Columbus State.
Already know which classes you need to take? Use the instructions under "Find Short-Term Classes" below to find and register for classes that fit your schedule.
CURRENT STUDENTS
Short-term classes can help you move toward graduation faster by adding a class to your spring schedule. Fewer weeks of class can also work well with your academic and personal schedule.
Review your Degree Audit (in CougarWeb for Students, under Academic Profile), or talk with your advisor to find the best short-term classes for your academic program and personal schedule.
Use the instructions below to find and register for short-term classes that fit your schedule.
Paying for College
It's not too late to complete your FAFSA for the Spring 2019 semester! Be sure to complete your FAFSA for 2018-2019.

Need Help?
Visit Student Central in Madison Hall on the Columbus Campus, or Delaware Campus Student Services in Moeller Hall.