Orientation
New Student Orientation for Autumn 2023
Graduates of 2022 and 2023, your invitations are coming in early May!
How do students receive their invitation?
Students need to:
Have placement information on file for reading, writing and math
Access their Columbus State student email accounts
If you have questions or looking start classes for Summer 2023 (May 29th), please contact New Student Programs at orientation@cscc.edu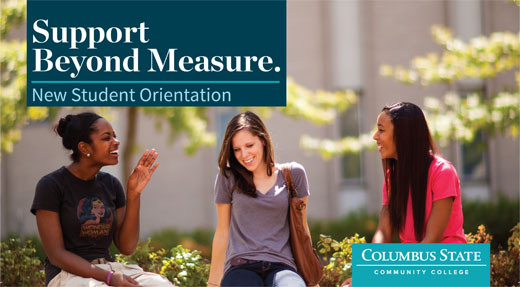 Are you a recent high school graduate (2022 or 2023) who is planning to attend Columbus State in Autumn 2023?
Welcome to Columbus State Community College! We are excited you have decided to join us for part of your journey. As a new Cougar, your next step is to attend orientation. The New Student Orientation program is designed to help ease the transition from high school to college as well as prepare parents and families for their student's new journey. Orientation provides students and families with information on the services and opportunities Columbus State has to offer. In addition, students will participate in a group academic planning session and register for their first semester of classes. Please complete the first 4 steps of the Pre-Orientation Checklist and check your CSCC student email for your invitation.
Spread the News
Share your first steps at Columbus State with your family members and celebrate your accomplishment! Tag yourself on your favorite social media site with #CState2023 #CougarStateofMind
Follow us on Instagram @cscc_nsp
Checkout a clip of New Student Orientation on our Instagram!
What is Orientation?
New Student Orientation at Columbus State Community College equips students with the tools necessary to achieve their goals. Through orientation, students experience first term academic planning, proactive financial aid education, and exposure to campus resources. Additionally, orientation is a great place to make new friends! Students will leave orientation feeling a connection to the Columbus State community and prepared to begin their academic journey.
Students who attend orientation will:
Make valuable connections with peers, student leaders, and campus staff.
Discover Columbus State's academic and personal support services.
Learn how to register for classes and leave with their first semester schedule.
Learn how to manage the responsibilities of college (e.g., academic expectations, financial obligations, personal development).
Explore opportunities to get involved in student clubs and organizations.
Become energized and excited about being a Columbus State Cougar!