Science
Columbus State offers world-class science courses, with individualized instruction, for the lowest tuition rate in the area.
Columbus State is a two-year school, so students can take the first two years of their bachelor's degree, then transfer. Students can now obtain a specialized associate degree in science, which give you a head start when it's time to transfer to a four-year school. See Degrees that Transfer.
Students can also take individual courses -- many students take courses here while still enrolled at their host college. It's a great way to knock out an elective, and our small classes make Columbus State an ideal place to take a tricky course. See Transient / Guest Students.
Paying for College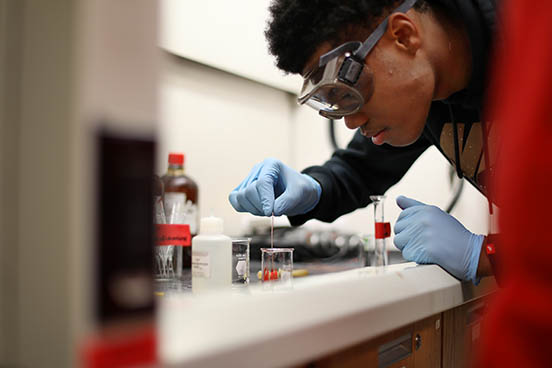 Future Scientists of Ohio Scholarship Program
The Future Scientists of Ohio Scholarship Program provides full-tuition scholarships two years of college at Columbus State. Scholarship recipients enroll in classes with other students in their cohort, and receive special support from faculty and advisors.
Read More
Ohio LSAMP Alliance
The Ohio LSAMP Alliance aims to double the number of underrepresented minority students earning bachelor's degrees in Science, Technology, Engineering & Math (STEM) fields. At Columbus State, the program incudes a pre-college orientation, mentoring, advising and research opportunities for minority students.
Read More
About
Science courses are divided into two departments: Biological Science and Physical Sciences. They reside in the college's Arts and Sciences Division. We offer high-quality science programming that you can transfer to any of dozens of Ohio colleges.
Chairperson: Dr. Cathy Bill
Hours and Location
Nestor Hall 432
Monday - Thursday 8:00am - 4:00pm (in person)
Friday 8:00am - 4:00pm (via email)
Other ways to connect:
Teach With Us
If you are interested in teaching with us, please review the following interview tips and check our currently available positions.
Department Contact
Academics Department
(614) 287-0000