Admission Requirements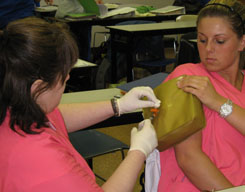 Applicants must first apply to the college, then to our program. To receive an application, you will need to attend an information session.
Schedule of information sessions
DUE TO THE COVID-19 PANDEMIC, IN-PERSON INFORMATION SESSIONS HAVE BEEN CANCELED FOR THE SEMESTER:
Information Session PowerPoint (.pptx)
Directions: Review the PowerPoint, if you have any questions about the program, email mamrich@cscc.edu. Once you've viewed the presentation, complete theMedical Assisting Information Session Quiz to record your attendance.
Once you've completed the quiz you can apply to the program using our online application.

Registration for an information session is not required at this time, complete the alternative format prior to the application deadline: August 10, 2020.
Medical Assisting is a lock-step program. Once in the program, you must take the MAT classes in order. All classes are during the day.
Information Packets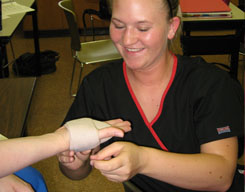 To obtain an information packet, please use the link below to print a copy.
Applicants to our program must first apply to the college.
Applications to the Medical Assisting program are only available at an information session.
Health Record Form
You will need to complete the Health Record Form before you enter the program. Please submit it to
Health Records
Union Hall 132
Vanessa Lang, Program Coordinator
(614) 287-2450

APPLICATION DEADLINE IS JULY 31st FOR ENTRY INTO AUTUMN SEMESTER EACH YEAR
this program requires both a bci and drug testing.
All students who wish to enter the Medical Assisting Program must comply with the following requirements:
1. Admissions Criteria/Requirements:
The Medical Assisting Program is a rigorous program of study. Admission criteria includes specific college courses. All admission courses must be completed with a grade "C" or above.
Applications for admission to the program may be submitted prior to completion of all admission criteria. The application will be evaluated based on completion of the following admission requirements:
Biology: Departmental Placement Test or BIO 0100.
English: Placement into ENGL 1100 or completion of ENGL 0190
Reading: Placement of "No Reading Required" or completion of DEV 0145
Math: Placement into MATH 1104 or STAT 1350
CPR and First Aid: Current American Red Cross or American Heart Association Health Care Provider CPR with AED Certification and First Aid Certification
* A minimum grade of "C" or higher is required.
Students who are awarded transfer credit by Columbus State for MATH 1025, ENGL 1100, or BIO 1100 will be considered to have met the requirements for the respective coursework.
Placement Testing: All placement testing deficiencies including the requirement for reading skills or completion of DEV courses must be done by application deadline. To take the placement test you must first apply to Columbus State before taking the placement tests.
Achievement of a minimum GPA of 2.00 on a 4 point scale based on the completion of courses at the college most recently attended or Columbus State Community College. A minimum GPA of 2.0 must be maintained throughout the length of the Medical Assisting Program and all Technical (T) courses completed with a grade of "C" or above (see Plan of Study).Attendance at a Medical Assisting Information Session for the current application period.
2. Required Documentation to be submitted to the Admissions/Records and Registration Office:
Final official high school transcript (sent directly by the high school to Columbus State) verifying date of graduation OR General Education Development (GED) test results with a minimum average standard score of 45 and a minimum of 35 in each subject.
Official transcripts from other college(s) attended sent by the college directly to Columbus State.
Application to Columbus State (if not a current student).
International Students: See section 3-F

3. Required Documentation to be submitted to the Medical Assisting Program (all students)
Medical Assisting Program Application
Copy of final high school transcript verifying date of graduation OR General Education Development (GED) test results
Current American Red Cross Health Care Provide CPR with AED Certification or completion of MULT 1130
Responding to Emergencies.Current American Red Cross First Aid Certification or completion of MULT 1130 Responding to Emergencies.
Copy of transcripts (unofficial copy is acceptable) from other college(s) attended (these will be cross-verified with the Admissions Office).
Placement test results.
Students who have attended other colleges must have their official transcripts ALSO sent to Records and Registration where the transcripts will be evaluated for transfer credit. This must be completed BEFORE submitting the Medical Assisting application. If you are not currently a Columbus State student, you must submit a Columbus State application prior to submitting your transcripts for evaluation. In order for transcript evaluation to occur by the application deadline, transcripts must be submitted to Records and Registration by February 1st. All transcripts must be evaluated and transfer credit posted by the application deadline.
International Students: As well as submitting the above information in #3 A through E, international students must also submit foreign high school AND college transcripts to one of the following transcript evaluation agencies:
Educational Credential Evaluators, Inc., at http://www.ece.org OR,
World Education Services at http://www.wes.org
Check for deadlines for submission of transcripts to the evaluation agency. The cost of the evaluation is the responsibility of the student. Please ask the agency to send one copy of the completed evaluation directly to: Columbus State Community College, ATTN: Office of the Registrar, 550 E. Spring Street, P.O. Box 1609, Columbus, Ohio 43215
You will also need DEV 031 equivalent at Columbus State OR High School Algebra II (verified by transcript evaluation).

4. Additional Admission Information:
If you are not a current or previous Columbus State student, you may Apply Online or, you may enroll over the telephone by calling (614) 287-5353, or (800)621-6407. You may also visit the Welcome Center located in Madison Hall.
For information regarding placement testing, contact the COMPASS Lab, located in Madison Hall, Room 255, telephone number (614) 287-3602 or (800) 621-6407, extension 3602.
C. All students who are accepted into the program will be expected to attend a mandatory orientation session in the summer and to complete a series of "Health Record" forms and immunizations. Students who fail to complete record requirements by will relinquish their place in the program. Accepted students will receive written information regarding these requirements in their acceptance packets.

5. Statement Regarding Infectious Diseases:
Students in any of the Allied Health Programs, including Medical Assisting, perform their clinical work on real people. Columbus State does not discriminate against students, faculty, or patients in any way, or based on color, creed, national origin, gender, disability or sexual preference. The patient populations with whom we work come from all walks of life, and the students may therefore be exposed to many types of communicable diseases. These are not limited to but may include hepatitis (A, B, C, or D), HIV/AIDS, TB, measles, mumps, rubella, rubeola, etc. All students entering the Medical Assisting Program must be aware of this slight, but real potential.
All students are required to have personal health insurance in effect by the first day of class, or sign an Insurance Waiver Form
For further information regarding the program requirements, please email Fauna Stout, Program Coordinator at fstout@cscc.edu.
To receive information regarding Information Sessions, please email Miranda Amrich at mamrich@cscc.edu.
To contact the Health Records Office regarding your student health record requirements go to Union Hall 132 or call 287-2450.
Department Contact
Academics Department
(614) 287-0000