Erica Miller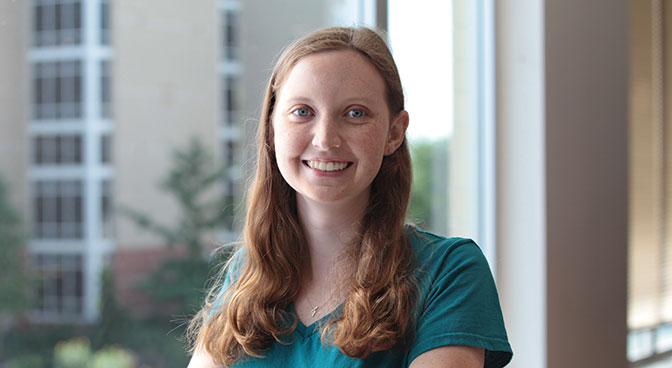 After completing the Modern Manufacturing Work-Study program, Erica secured the position of Mechanical Technician I at Stanley Electric US, Inc., a leading manufacturer of automobile lighting.
When she was still in high school, Erica Miller wasn't sure what she wanted to major in when she got to college. "I was interested in a lot of different things — music, architecture, and engineering. I went back and forth about what I wanted to do."
She explored programs in architecture, mechanical engineering, and electrical engineering. Once she discovered the Modern Manufacturing Work-Study Program at Columbus State, she knew she had found her fit.
"What I really liked about the program is that it combines electrical engineering and mechanical engineering,, so I wasn't locked into one path. I took classes in engineering graphics, motors and controls, robotics … there are a lot of options once you finish the program."
As an Electro-Mechanical Engineering major, Erica began the program taking a year of classes at Columbus State. Going into the second year of the program, students interview for a paid work-study position. For Erica, that led to a job servicing and maintaining robots and equipment at Honda. She completed her degree working three days at Honda and attending classes the other two.
"It's great how what you learn at school and what you learn on the job build on each other," she says. "They would ask me to do things at work for the first time and I was like 'Hey, I know how to do this!' The classes and lab work really teach you the basics so you can jump in when you get a job."
Her first foray into engineering and robotics was in middle school, when she participated in the First Lego League. "As a kid I was always fascinated with figuring out how things worked. I really liked thinking through problems and evaluating solutions, and that's exactly what I'm doing on the job now."
When Erica began the Modern Manufacturing Work-Study program, she was the only female in her cohort. "It was a little challenging because I'm naturally talkative and I think that was surprising to some of the male engineering types. They would just give me one-word answers and look at me like I was a little weird at first." But after just a few weeks, Erica earned the respect and friendship of her classmates.
With the combination of Columbus State's low tuition and the wages she earned through Work-Study, Erica graduated with her Associate of Applied Science in Electro-Mechanical Engineering — and with no college debt!
After graduation, Erica had multiple job offers and accepted a full-time job as a Maintenance Technician I at partner company Stanley Electric. One of her favorite parts of the job is troubleshooting machines on the line. "It's really rewarding when you get down to the root cause and are able to fix the issue," she says.
Another great aspect is that Erica is not the only woman on her team. "There's no reason women can't do this job," she says. "In fact, there are some things we do more easily because we are usually smaller. My hands will fit into tighter spaces to make repairs, for example." There are a couple of machines that require the Mechanical Technicians to actually climb inside the equipment to make repairs, which can also be easier for women. "We need to get more women into the engineering techology field," Erica adds.
Erica credits her interest in engineering technology to the influence of both Girl Scouts and 4-H as she grew up. Today, she pays it forward by helping young girls develop their curiosity and confidence through her volunteer work for both. "I love teaching them new ways to look things and solve problems. It's great to see the look on the girl's faces with they find a solution."
Department Contact
Academics Department
(614) 287-0000