Engineering Technologies
Blue collar goes high-tech at Columbus State's Engineering Technologies Department. Our faculty give students a hands-on learning experience that prepares them for the high-tech manufacturing and technical jobs of the future.
Our students take part in a stunning array of projects, from developing a solar car to a cutting-edge device to track packages. And when they get out, they're well-prepared to find exciting careers.
We offer two-year degrees in three categories, as well as four focused certificates. Graduates can then transfer to a four-year college, or go straight into the work force.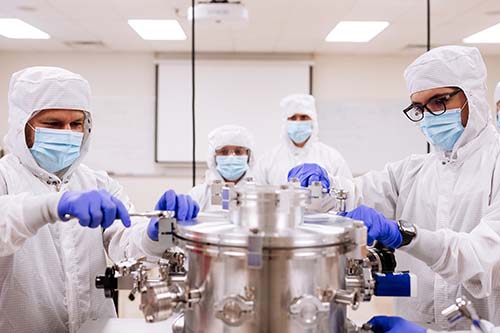 Join us Wednesday, Oct. 18 from 5 to 7 p.m. to learn how a degree or certificate in Engineering Technology from Columbus State is your path to a career in semiconductors, biomanufacturing, gene therapy production, auto, electric vehicle and fuel cell manufacturing, pharmaceutical production, and much more. Learn More
Introducing New Courses in Chip Manufacturing
Working with Intel, we have launched two new courses for the Autumn 2023 Semester focused on semiconductor fabrication. These courses are relevant for all engineering technology students – electronic, mechanical, and electro-mechanical. Talk to an advisor about registering today.
MEMS Fabrications (ENGT 1294-001)
Mondays and Wednesdays, 10:30-11:50 a.m. (lecture) and noon-1 p.m. (lab)
This course is an introduction to semiconductor fabrication. Micro-Electro-Mechanical Systems (MEMS) fabrication is the technology of making tiny machines, devices, and systems, like computer chips. In this course, a student will explore career opportunities within the semiconductor industry, learn how semiconductor wafers are made and processed to become integrated circuits, and learn how to work in a cleanroom environment and adhere to chemical safety best practices. You do not need any prerequisite courses to enroll.
Industrial Foundations (ENGT 1294-002)
Mondays and Wednesdays, 1:30-2:20 p.m. (lecture) and 2:30-3:30 p.m. (lab)
Designed for people who don't have a strong technical background, this course will introduce students to manufacturing fundamentals, career opportunities, and establish baseline technical skills like print reading and part visualization from drawings, including sketching multi-view drawings and three-dimensional models, location of key features and dimensioning specifications. Students will also learn how to use precision measurement tools, like scales, calipers, micrometers, and dial indicators. You do not need any prerequisite courses to enroll.
Information Sessions
In Person Info Session
Monday, Oct. 2
12 noon
In-Person Info Session
Wednesday, Oct. 4
6 - 7 p.m.
The MMWS program combines classroom and lab learning with the opportunity for a paid work-study position at a local industry partner.
Scholarship Opportunities
Application periods vary - Check deadlines for these scholarships in our Scholarship Portal.
Choose Ohio First-Full Tuition
Choose Ohio First scholarship recipients learn together as a cohort as they complete their program. Students also have access to a specialized orientation, tutoring, research projects, and special events including a monthly meeting of the STEM Experiential Learning Scholarship Community.
Frank Kroeger Endowed Scholarship- $1,000
Students interested in completing a degree in the Engineering Technology program can use this award to pay for tuition and fees. Minimum GPA requirement is 2.5 and must have completed 20 credit hours. A completed and submitted FAFSA is required for consideration.
Frank Hirschvogel Scholarship-$1,500
Top-performing engineering and transportation technology students can use this scholarship to help pay for tuition, fees, and books. Minimum GPA requirement is 3.2 and must have completed at least 24 credit hours at Columbus State.
Mechanical Engineering Technology-$500
Mechanical Engineering Technology students with a faculty endorsement are eligible for this scholarship that can pay for their tuition. Minimum GPA requirement is 2.5 and must have complete 15+ credit hours.
Department Contact
Academics Department
(614) 287-0000