Groundbreaking for hospitality program's Mitchell Hall
Campus News | Wednesday, June 27, 2018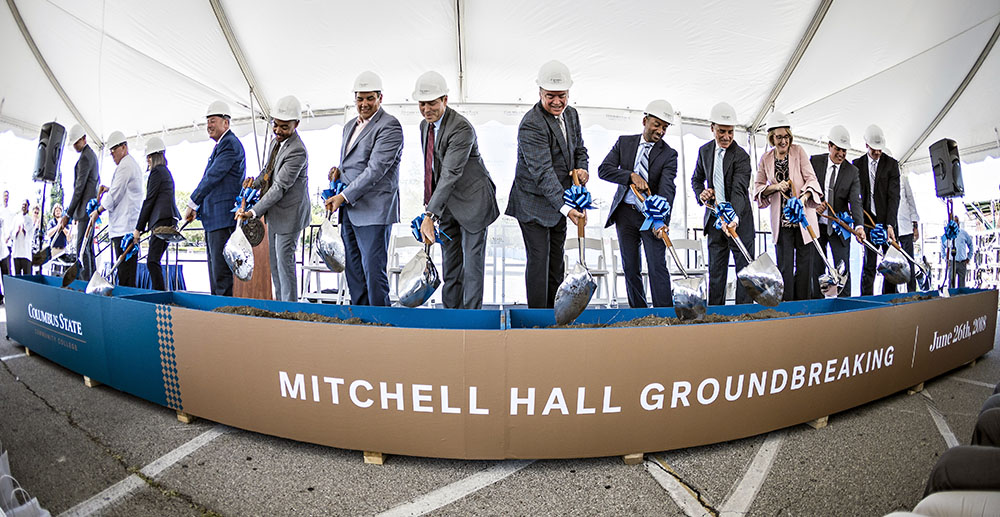 (COLUMBUS, Ohio) Columbus State Community College announced today that it has raised more than $5 million in private philanthropy toward a $10 million fundraising goal for Mitchell Hall, the College's planned 2019 new Hospitality Management and Culinary Arts building.
Joining previously announced $3.5 million building name sponsor Cameron Mitchell Restaurants, major donors include:
American Electric Power Foundation
Bundy Baking Solutions
The Columbus Foundation
Columbus Hospitality Management
Crane Group
Ingram-White Castle Foundation
Keith and Donica Key
Wasserstrom Family
Columbus Mayor Andrew J. Ginther, Cameron Mitchell Restaurants (CMR) CEO and founder Cameron Mitchell and CMR President David Miller joined Columbus State President David Harrison in celebration of the fundraising milestone at a groundbreaking event at the 250 Cleveland Avenue construction site.
"This project is a great example of the Columbus Way, demonstrated by Columbus State working collaboratively with the city, the state and the private sector to bring our collective resources together towards a meaningful step forward in creating an 'opportunity corridor' along Cleveland Avenue," said Mayor Ginther. "Mitchell Hall will be a valuable addition to Discovery District development further advancing restorative infrastructure and community connectivity contributing to our vision to lift every person in every neighborhood onto ladders of opportunity."
Cameron Mitchell, CEO and founder of Cameron Mitchell Restaurants
"The generosity of our donors reflects that this is about more than just a new building," said Mitchell, who chairs the fundraising campaign. "This is about investment in our community paying dividends for the future by increasing the pipeline of students entering, growing and excelling in the hospitality industry. We want Columbus State to be the premier culinary school in the Midwest, Ohio's fast-growing culinary capital, providing access to high-skill, high-growth careers."
Features of the 80,000-square-foot, three-floor facility include:
Doubling Hospitality and Culinary Arts enrollment capacity to more than 1,500 students.
A professionally managed, student-staffed 50-seat sit-down restaurant and bar and 20-person retail café and bakery, both with outdoor seating.
A 400-plus seat banquet-capacity conference center with onsite catering and a sweeping balcony overlooking downtown.
Onsite farm-to-table food production gardens.
A 100-seat culinary theater.
Completion is scheduled in autumn 2019. Project architect is DesignGroup. Gilbane is construction manager.
"Mitchell Hall represents the power of public-private partnership in action as the state, city, companies and individuals join with us to bring this project to life," said Harrison. "As the community's workforce convener, we wanted to make sure to focus on access and equity as we develop this center. Like a kitchen, we want this to be a hub for community conversation and new ideas."
In addition to $10 million in private philanthropy, the $33 million Mitchell Hall project will be funded by $10 million in state capital funding, and project financing secured by the College. The City of Columbus has also designated more than $7 million on aligned streetscape, utilities and parking improvements in support of the project and surrounding neighborhood.
As part of the project, Columbus State has committed to a partnership with Mid-Ohio Foodbank to jointly develop innovative solutions to address food insecurity on campus. The College also intends to operate the commercial components of the building, which include a restaurant, café and conference center, as a social enterprise reinvesting proceeds into community needs. Columbus State and YMCA of Central Ohio are also collaborating to health and wellness solutions for both students and neighboring community residents.
Go to 2018 Archive Go to Campus News