DoD Tuition Assistance Programs
Basic Instructions:
It is recommended that you complete the process of requesting tuition assistance at least thirty (30) days prior to your CSCC class start date!
Prospective students are directed to receive approval from the student's ESO, military counselor or Service prior to enrollment.
Apply for Tuition Assistance (TA)
Students must first create an account on their respective service portal and gain approval from their service branch.
Military members should follow the prompts detailed on their appropriate TA service portals to sign up for Tuition Assistance.
After Applying for Tuition Assistance, How Do I Register for classes?
CSCC's goal is to ensure you receive all the credits you deserve, whether from previous institutions attended or as a result of your military education and training.
It is essential to provide all official transcripts and required documents in order to facilitate the credit evaluation process. Course registration is accomplished through Student Central and Academic Advisors.
Sept. 2022 Upgraded Army IgnitED Updates (Be Sure To Read Carefully)
Student Overview for Using ArmyIgnitED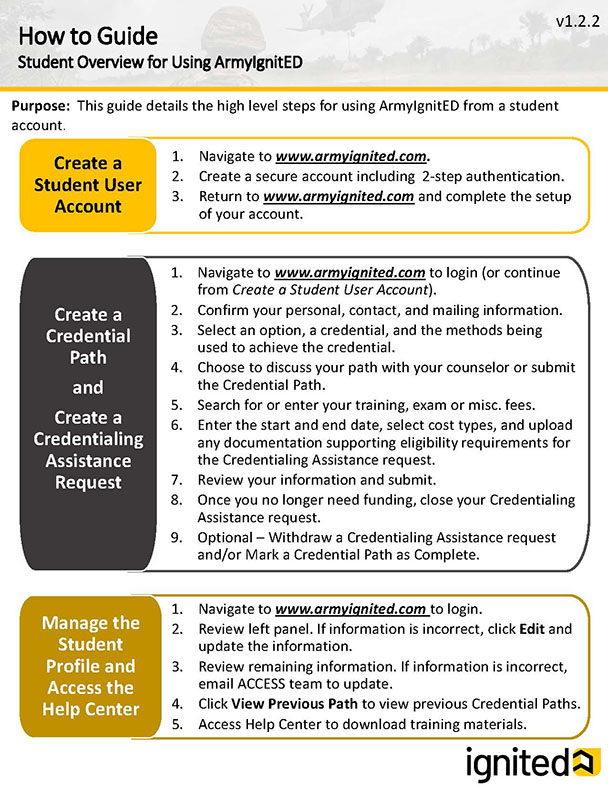 | | | |
| --- | --- | --- |
| Service Branch | Website/Link | Help Line |
| Air Force | | 877-596-5771 Option 7 |
| Army | | 877-272-1330 |
| Navy | | 877-838-1659 |
| Marine Corps | | |
| Coast Guard | | 405-954-1360 |
| Ohio Army National Guard | | 614-336-7293 |
| Ohio Air National Guard | | |
| 121st Air Refueling Wing - Federal T.A. | | 614-492-3520 |
| 178th Airlift Wing - Federal T.A. | | 937-327-2179 |
| 179th Airlift Wing - Federal T.A. | | 419-520-6168 |
| 180th Airlift Wing - Federal T.A. | | 419-868-4344 |
DoD MOU Schedule for Return of Tuition Assistance When Withdrawing From Courses
| | |
| --- | --- |
| 16-week Course | Tuition Returned to DoD / Service Branch |
| Withdraw Submitted Before or during weeks 1-2 | 100% return |
| During weeks 3-4 | 75% return |
| During weeks 5-8 | 50% return |
| During weeks 9 | 40% return (60% of course is completed) |
| During weeks | 10-16 0% return |
| | |
| --- | --- |
| 8-week Course | Tuition Returned to DoD / Service Branch |
| Withdraw Submitted Before or during week 1 | 100% return |
| During week 2 | 75% return |
| During weeks 3-4 | 50% return |
| During week 5 | 40% return (60% of course is completed) |
| During weeks 6-8 | 0% return |
Department Contact
Academics Department
(614) 287-0000