Grades
Final Grades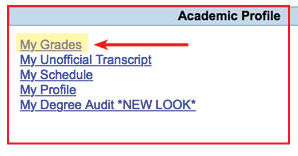 Final grades are posted on CougarWeb. They're available on CougarWeb about a week after the semester ends.
To find your final grade, log on to CougarWeb for Students and look for "My Grades" under "Academic Profile."
(Please wait until final grades are posted before requesting a transcript.)
---
Blackboard
Many professors keep an electronic gradebook through Blackboard so you can see your progress throughout the semester. To see your grades before your course has ended, look for "My Grades" under "Tools" on the My CSCC tab.
The Blackboard site for your individual class may also have a "My Grades" link under "Course Tools."
Professors also list grade requirements on the class' syllabus.
The final official grade for each course is kept on CougarWeb.
Want to keep a running tally of your grades, right on your Blackboard home page? From your home screen, select "Add Module" in the upper left-hand corner of the screen. Search for "Report Card" and add that. The Report Card module will be added to your home screen, and you can place it where you want it.
Grade Grievances
Grade grievance procedure is spelled out in the Student Handbook. Grade Grievance Procedure.
Grading Policies
Columbus State grades on a 4-point scale.
More on Grade Procedures
| Grading Definitions | Grade Notation | Grade Points per Academic Credit Hour |
| --- | --- | --- |
| High Achievement | A | 4.0 |
| Good Achievement | B | 3.0 |
| Satisfactory Achievement | C | 2.0 |
| Below Satisfactory | D | 1.0 |
| Failing | E | 0.0 |
| Failing due to Non-Attendance / Non-Participation | EN | 0.0 |
| Satisfactory | S | 0.0 |
| Unsatisfactory | U | 0.0 |
Students may also be awarded the following other grades.
Non-Traditional Credit
N
Credit given for life experience.
Proficiency Examination
X
Credit given following a proficiency test, ie; "testing out" of a class.
Withdrawal
W
A withdrawal after 20 percent of the course is complete, but and before 61 percent. The credit for this course will not be calculated into the student's GPA.
Administrative Withdrawal
AW
A withdrawal that requires a petition and documents extenuating circumstances for approving the course withdrawal past the 61% deadline. The credit for this course will not be calculated into the student's GPA.
Incomplete
I
When circumstances beyond the control of a student prevent the completion of course requirements. Course work must be completed within six weeks after the beginning of the next semester or the "I" will automatically be changed to an "E."
Audit
R
Auditing a class, ie; taking the class for informational purposes only. No college credit is awarded for audited classes.
Fresh Start
Z
Grades that are approved to be deleted from the academic transcript for Fresh Start will receive a notation of "Z" on the transcript. Grades of "Z" will not be calculated into the student's GPA.
Transfer

K

KD

A student may receive credit for a course taken at another institution of higher education. A minimum grade of "D" must have been earned in the course in order to permit its transfer. In the case of an earned grade of "D" the letter "K" followed by the letter grade of "D" will be recorded on the student's transcript for each course in which transfer credit is awarded. "K" grades will not be calculated into the student's GPA. The student will still need to meet College prerequisites for courses.