---
Nursing students join the fight against COVID
#CStateChampions | Thursday, February 25, 2021
---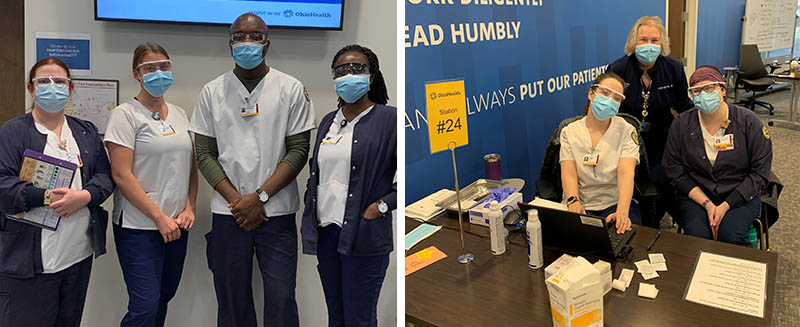 Left picture, left to right, students Amy Smith, Whitney Bunders, Ben Ayette, and Rita Adu.
Right picture: Jackie Miller, Nursing professor, is standing in the middle, with students Jamie Keller on her left, and Tori Kisamore on her right.
It didn't take long for Columbus State's Nursing Department to lend a hand in the COVID-19 vaccination effort in Central Ohio. Professor Jackie Miller says, "OhioHealth reached out to see if we wanted to assist in giving vaccinations."
With the pandemic's impact on the Nursing program, the answer was almost a foregone conclusion.
"Due to COVID-19, we lost as many as four clinical units this academic year. The vaccination program gives students the much-needed in-person learning that clinical labs usually provide."
Miller says that, due to social distancing and other COVID-19 protocols, she can only take four students at a time. That requires rotating in several students each visit, so all have a chance to take part. As long as vaccinations continue, the students will continue to do clinicals each Wednesday and Thursday at the Blom Administration Campus in Columbus.
Graduates at the Forefront