Past Trips
CUBA
Students were among the first U.S. citizens to visit Cuba since the relaxing of the embargo!
Students completed Global Business Management (BMGT 1798 - Special Topics)* during Autumn Semester 2015, and spent 8 days in Cuba developing international business skills and experiencing what it means to be a global citizen.
Students attended classroom sessions at a local school, and visit entrepreneur businesses.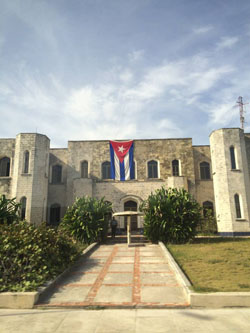 Study content included:
Entrepreneur Business acumen
Cultural awareness and protocol
US and Cuba business relationships
Project planning and organizing
Translating business principles to the local business environment.
What else students experienced:
Meet local business owners/entrepreneurs
Visit a bioreserve
Visit a Sugar Mill
Visit an organic farm and local agricultural co-ops
Immersion in local culture
Cost: $3,715
Included: Round-trip airfare, inter-country flights, accommodations, some meals, tips and entrance fees for scheduled group activities, and insurance. Tuition and textbooks are not included.
---
Mexico (Modern Languages)
Faculty Contact: Eleanor Opitz (eopitz@cscc.edu)
Study Abroad in MexicoStudents have the option of completing either 2 or 4 credit hours in Spanish while studying Spanish in Cuernavaca, Mexico for either 2 or 4 weeks. Study Spanish in the Mexican City of Eternal Spring!
Students of Spanish will have the opportunity to be immersed in the Spanish language and culture while living in Cuernavaca, Mexico with a Mexican host family for either two weeks or four weeks. Students will study Spanish with native Spanish speakers at Cemanahuac Educational Community in Cuernavaca, Mexico. Students will study in small classes for four hours per day, and then have the rest of the day to explore Cuernavaca and other fascinating places in the Mexican state of Morelos and Mexico City along with students from around the US and the world.
Highlights include:
Studying with native-speaking Spanish teachers
Living with a Mexican host family in Cuernavaca, a beautiful city with an eternal spring climate located an hour away from Mexico City
Taking field strips to archaeological sites with Cemanahuac staff anthropologist
Possible excursions to:
Taxco, the silver city
Teotihuacan, the Pyramids of the Sun and the Moon
Tepoztlan, the enchanting village
The Museum of Anthropology in Mexico City
The Templo Mayor, Palace of Fine Arts, National Palace and Cathedral in Mexico City
Puebla, the city of angels
Xochicalco, an ancient commercial and astronomical center
Diego Rivera and Frida Kahlo´s world, Arts of Mexico
Participating in one of the volunteer programs in Cuernavaca
Taking walking tours of Cuernavaca
Learning local crafts—cooking and back strap weaving
Shopping for incredible handicrafts in the mercados
Eating authentic Mexican cuisine
Two weeks: June 27-July 11
Four weeks: June 27-July 25
The two-week program cost $1995.00
The four-week program cost $2990.00
---
JAPAN
Faculty Lead: Dr. Erica Swarts (eswarts@cscc.edu)
This course was taught online Spring semester 2014, and culminated in an eleven-day trip to Japan during the semester break in May.
Earned credit for SSCI 1798: Japanese Anthropology – and study abroad for 11 days in Japan.
This experience will introduce students to the culture and diversity of Japan, a land where the ancient and cutting edge coexist. Japan offers an excellent opportunity to study different aspects of culture (history, economics, religion, politics, art and architecture, group dynamics, etc.) from an anthropological perspective. This tour starts upon arrival in Osaka. We will first work our way south to Hiroshima, and then back north to Kyoto, Hakone, and finally, Kamakura and Tokyo.
Highlights included:
Guided tours of Tokyo, Kyoto and Hiroshima
Excursions to the Great Buddha of Kamakura, ancient imperial palaces and medieval castles, the Golden Pavilion, Meiji and Miyajima Shrines, and the Hiroshima Peace Memorial Park and Museum, and many more sites
An air-conditioned, movie- and karaoke-equipped tour bus, the preferred method of sightseeing in Japan
Two trips on the superfast Shinkansen (bullet train)
A cruise on beautiful Lake Hakone and a cable car ride up Mt. Komagatake to glimpse Mt. Fuji
An array of amazing regional foods
For the "daring," a chance to soak in a hot spring
And so much more!
---
Denmark and Germany
Lead: Carmen Daniels (cdaniels@cscc.edu)
Occurred May 2014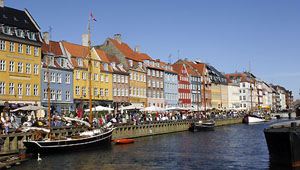 This exciting journey began in Denmark and ended in Berlin, Germany with a visit to Sweden in between. Students gained an understanding of global business issues in key EU markets, first hand. Though tourist sights are part of the journey, this was not a tour. Students engaged in the study of international business and hopefully, begin to develop a global mindset.
To prepare for the overseas portion of the program, students participated in a special section of SCM-1190, International Business. The course was online in spring 2014. Participation in inter-college activities and assignments with students from three US community colleges was also part of the course.
Danish business faculty led the overseas component of the program along with US faculty. By preparing a team business presentation and participating in a Danish-style exam, students experienced the differences in educational systems and honed their cultural awareness. The academic part of the overseas experience was balanced by visits to cultural and fun sites.
Highlights included:
Classes taught in English by Danish and US faculty at a Danish college
Visits to Danish and German businesses including Rittersport (chocolate)
Tivoli Gardens amusement park
Viking Museum
Cultural tours in Copenhagen and Berlin
Day-trip to Sweden
Immersion into local culture
Free time to explore each city
Department Contact
Academics Department
(614) 287-0000