Study Abroad
Take a look at the upcoming Study Abroad Classes, and widen your world!
---
Upcoming Opportunities
Guatemala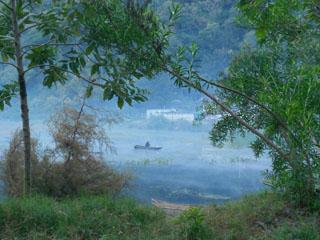 This course will be taught online in Autumn 2018 and culminate in a study abroad portion during the break between Autumn and Spring semester (January 4 – 12, 2019).
Earn credit for SSCI 1798: Learning Through Service: An International Experience in Guatemala - and study abroad for in Guatemala!
The study abroad tour, and corresponding course, is designed to introduce students to the magnificent wonders of Mayan culture past and present and develop a deeper understanding of the issues facing this indigenous population. Our journey will take us to places in and around the indigenous Mayan community of San Lucas Toliman where a significant portion of our time will be spent learning and serving at projects sponsored by the local mission. We will learn about, and serve at the various projects the mission has started, including: reforestation, medical and dental clinics, school, women's center, + others. However, the largest focus of our work will be helping a local family build a new home. Our group will be paired with a local family to begin construction on the house floor/walls/roof while we are visiting. Construction skills are not necessary to help with this project, but what is required is an open-mind to learn the indigenous ways of building and working together on a large project.
Our journey will also include some additional amazing experiences in the other locations we may visit:
Meeting local artisans, learning about their trade, and shopping for their wares
Taking a boat tour of Lake Atitlan and visiting some of the other surrounding villages
Traveling into rural communities (we may attend local markets, help with health and wellness checks, or attend traditional religious services)
Touring the community of San Lucas Toliman, and meeting local residents
Plus, much more!
Cost: $1,500.00* (includes roundtrip airfare, city/in-country transportation, most meals & unlimited purified water, lodging, tips, entrance and guided tour fees)
* Does not include tuition, textbooks, passport, excess baggage fees, food while at airports, or suggested vaccinations
For more information on this exciting and enriching study abroad opportunity, contact Rebecca Mobley – rmobley@cscc.edu
---
Spain - May 2019
The Business Programs Department will be traveling to Spain in May 2019. The course will be BMGT 1798 –Study Abroad/Global Management – Spain. This eight week course is open to all students but a preference will be given to Business Program majors. Knowledge of Spanish is not a requirement.
Please join us for an exciting study abroad experience in beautiful Madrid and Barcelona and learn first-hand the operations of three companies. We will be discovering what is involved to operate a company within the EU as well as in a global environment. Also planned is a meeting with a senior political analyst from the European Commission to discuss membership in the EU and the workings of commerce among member and non-member countries.
For further information please contact: Terrie Stolte, tstolte@cscc.edu, 614-287-2798.
Cost: $3600 estimate; also, does not include tuition & fees. There may be scholarships available.
Department Contact
Academics Department
(614) 287-0000