Medical Imaging
Welcome to the Medical Imaging program at Columbus State Community College, Columbus, Ohio. We are located at 389 N. Grant Ave, just 1 block west of the main campus. (See the campus map for our location).
The Imaging Program is proudly JRCERT accredited, receiving accreditation for a period of 3 years on April 2023. (JRCERT contact information below.)
Medical Imaging Student Handbook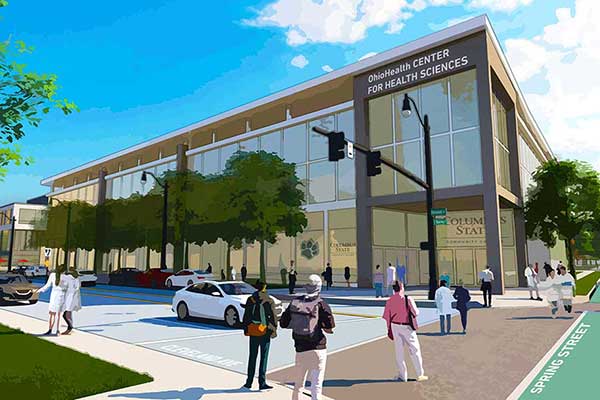 The joint $120 million investment will create a new training center and address workforce shortages in Medical Imaging and four other health professions. Learn More
Radiographers are highly skilled professionals qualified by education to perform imaging examinations and accompanying responsibilities at the request of a physician. A radiographer is able to perform diagnostic imaging, fluoroscopy, trauma, surgical, and portable radiography. Specialized areas in the curriculum include: computed tomography, vascular interventional radiography, digital imaging, and magnetic resonance imaging.
The radiography program begins every year with the technical courses beginning Autumn Semester. Admission to the program is competitive with completed applications received annually. Because students and health care workers in the health care field may be exposed to infectious materials and communicable diseases, the program emphasizes safety and prevention.
Programs and Certificates
JRCERT Accreditation Info
Joint Review Committee on Education in Radiologic Technology (JRCERT)
20 N. Wacker Drive, Suite 2850
Chicago, Il 60606-3182
(312) 704-5300
Fax: (312) 704-5304
Website: www.jrcert.org
Mission Statement & Goals
The mission of the Columbus State Community College Medical Imaging program is to provide a quality educational program that meets the life-long learning needs of its community. This is achieved by preparing graduates for employment as a Medical Imaging Science professional. This is consistent with the Columbus State Community College Mission Statement.
Goals
The program holds as its primary objectives, the education and training of qualified applicants to become competent radiographers. The program endeavors to instill in students, and subsequently graduates the following program goals:
Goal 1. Professionalism
Develop graduates who will recognize the need for life-long learning in their chosen profession and graduate students with the ability to behave in a compassionate, ethical and professional manner.
1.1-Students will understand the importance of Professional Associations.
1.2-Students will demonstrate the importance of professional, ethical, and compassionate behavior.
Goal 2. Clinical Competence
To graduate students who will successfully complete all program requirements and exceed entry-level expectations of employers
2.1-Students will demonstrate competency in radiographic skills, patient care skills, and radiation safety
2.2-Graduates will exceed the expectations of entry level technologists as defined by A.R.R.T. curriculum guidelines
2.3-Students will practice radiation protection.
Goal 3. Program Effectiveness
3.1-Students will pass the A.R.R.T. exam on the first attempt
3.2-Graduates will express satisfaction with the Columbus State Radiography program
3.3-Students will successfully complete the Radiologic Technology Program
3.4-Students will be employed within six months of graduation
Goal 4. Critical Thinking
To develop applied skills in critical thinking and problem solving in the practice of the radiography profession.
4.1- Students will be able to select and modify technical factors.
4.2-Students will demonstrate competency in non-routine and trauma settings
4.3-Students will be able to evaluate images for radiographic quality
Goal 5. Communication Skills
Students will demonstrate effective written and oral communication skills
5.1- Students will follow A.I.D.E.T. communication guidelines in the clinical setting and interact with patients and staff in an effective manner. (AIDET = Acknowledge, Introduce, Duration, Explanation, Thank you)
5.2-Students will demonstrate effective written and oral communication skills.


You must have a license from the Ohio Department of Health to practice as a Radiographer or a General X-Ray Machine Operator in the State of Ohio.
Department Contact
Academics Department
(614) 287-0000