Culinary Apprenticeship Major
The Culinary Apprenticeship major is offered in cooperation with the American Culinary Federation Columbus Chapter. It includes the theory-related classroom instruction and on-the-job training required for the National Apprenticeship Training Program of the American Culinary Federation (ACF).
Culinary apprentices are employed for on-the job training under a professional chef in restaurants, clubs, hotels, or catering businesses. Those selected for the apprenticeship program will interview with prospective employers; however, work placement cannot be guaranteed by the College or the ACF Columbus Chapter.
While employed, the apprentices attend classes at Columbus State one full day each week to work toward the associate of applied science degree. The Columbus State program is accredited by the American Culinary Federation Foundation Accrediting Commission. Program graduates qualify as, at minimum, Certified Culinarians through the ACF.
Information sessions for pre apprenticeship applicants
| | | |
| --- | --- | --- |
| Tuesday, June 18 | 2:00 pm | Eibling Hall 005 |
| Tuesday, July 9 | 10:00 am | Eibling Hall 005 |
| Friday, July 19 | 11:00 am | Eibling Hall 005 |
| Monday, July 29 | 11:00 am | Eibling Hall 005 |
| Tuesday, August 13 | 11:00 am | Mitchell Hall 106 |
| Wednesday, August 21 | 12 noon | Mitchell Hall 106 |
The following information should be submitted as soon as possible after acceptance to Columbus State to room 136 in Eibling Hall:
A supplementary apprenticeship application
2 letters of recommendation
An 200-word essay on why you want to become a chef
8 required pre-requisite classes
Are required for admittance to the program
*Candidates will be scheduled for interviews into the Culinary Apprenticeship program, once the above criteria is met.
Culinary Apprenticeship is a lock-step program. Once in the program, you must take the culinary classes in order. All classes are held one day a week.
---
Specific program admissions information
High school graduate or GED equivalency
To apply
1. Complete Culinary Apprentice Application
2. High School Transcript of GED Certificate
3. College Transcript
4. Two letters of reference (preferably from employer)
5. 200 Word Essay on why you want to be a Chef
---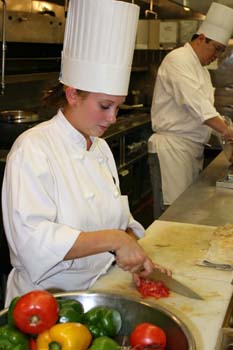 Questions?
Contact:
Barry Young, MBA, CEC, CCE, AAC
550 East Spring Street
Columbus, OH 43215
Phone Number 614.287.2220
Email: byoung38@cscc.edu
Department Contact
Academics Department
(614) 287-0000