Facilities Management work continues to pay off
Campus News | Monday, January 3, 2022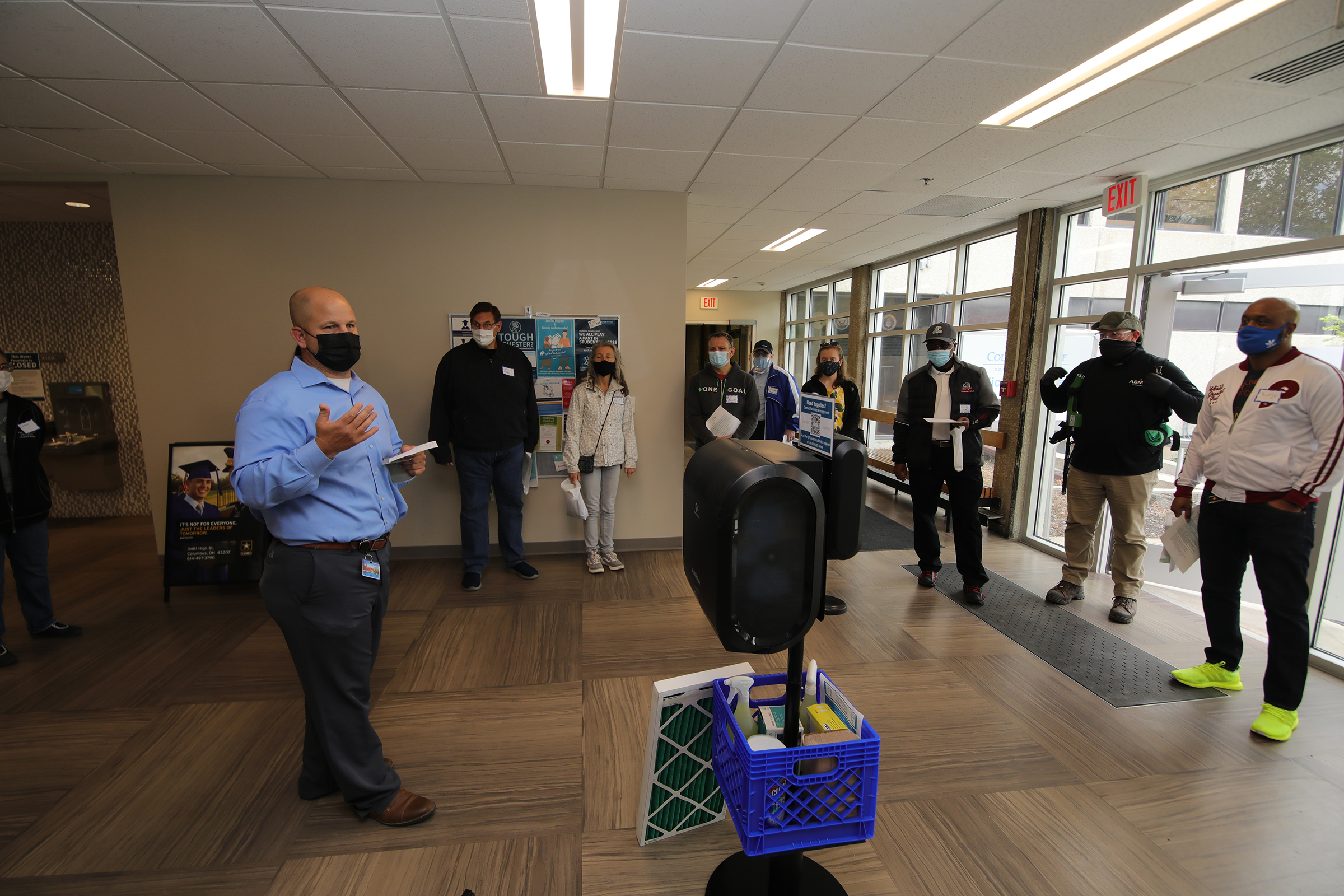 Above, on the left, Mark Dudgeon, Facilities Management senior director, talks to faculty and staff on a tour of the Columbus Campus in the spring of 2021.
As Columbus State headed into the pandemic in March 2020, departments across the College scrambled to meet the needs of students in an uncertain time. No one could have foreseen what everyone would face personally or professionally. Workers headed home, faculty and administrators flipped in-person learning to an entirely virtual environment, and Columbus State's Facilities Management team faced hurdles preparing for an eventual return to campus.
It has taken thousands of hours and many months for the 37-member Facilities Management crew to make our campuses safer. And they had an unplanned head start of sorts.
In the fall of 2019, Mark Dudgeon, Facilities Management senior director, had ordered additional hand sanitizer dispensers for public areas to complement those placed several years ago during the H1N1 health scare. With support from the budget office, he also ordered nearly 1,500 non-touch soap and towel dispensers for restrooms. "We were ramping up for flu season," says Dudgeon. "We wanted to be proactive, and that played in our favor when the pandemic hit."
Fast-forward to March 2020, when the campus, and the country, shut down for a couple of weeks. Despite early supply chain disruptions, the Facilities Management staff went to work constructing innovative personal protection equipment (PPE) stations, sneeze guards, and vinal barriers for offices, study spaces, testing centers, and more.
Unique QR codes are placed on each PPE station. That allows anyone to use their phone to hover over the code, notifying Facilities Management that it needs to be serviced.
"We are in the customer service business," said Rod Harris, Facilities Management technician. "We have staff, faculty, and students. It's all about customer service. This reinforces my opinion that we have a lot of talented workers that have good ideas, and we were all able to put this into practice."
"I learned how much compassion the team has," said Billie Williams, Facilities Operations manager. "Compassion for the community, employees, faculty, and students."
Delivering and installing equipment continued through 2021. For example, touch-free faucets and towel dispensers are now in every bathroom on campuses. And to accommodate social distancing, it took more than 2,000 hours of manual labor to reconfigure classrooms by moving desks, tables, and other equipment. The ongoing work will continue for months to come, requiring constant planning for a nimble Facilities Management team.
By the numbers (as of November 30)
130 PPE stations
681,000 masks distributed
10,710 COVID home test kits distributed
2,100 HVAC filters
Go to 2021 Archive Go to Campus News