Zoo grounds become classroom for landscape students
Campus News | Wednesday, May 29, 2019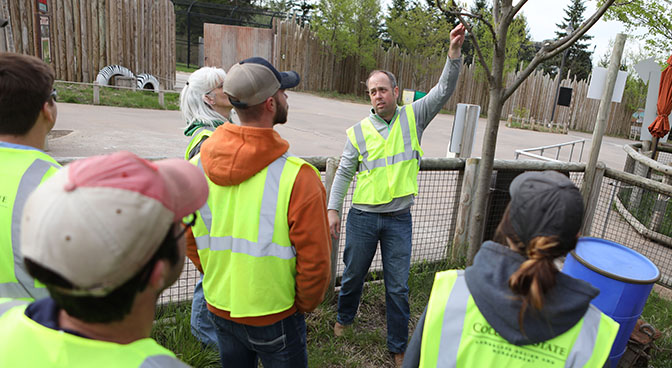 Instructor Ryan Kolb lectures to students.
---
The spring semester began with a new collaboration between Columbus State and the Columbus Zoo and Aquarium. The association provides horticulture support to the zoo while giving students a valuable hands-on learning opportunity.
Landscape Design and Management students met regularly at the zoo throughout the semester, where they performed important horticulture tasks such as seasonal cleanup, corrective pruning, edging landscape beds, and mulching. Under the supervision of adjunct professor Ryan Kolb and Columbus Zoo and Aquarium Horticulture Manager Stoyan Iordanov, students put the concepts they learned in class into practice. Returning regularly allowed them to see results from the work they accomplished earlier in the semester.
Students were also exposed to a unique environment – zoos have special horticulture challenges compared to standard residential or commercial properties. All plants must be non-toxic to animals and able to weather the high visitor traffic. Meanwhile, the Columbus Zoo benefits from the students' work. During the semester, Columbus State students were largely responsible for planting new landscaping around Conservation Lake, a main focal point when guests walk into the zoo.
Landscape Design and Management students pruned and prepared landscape beds for the season.
Go to 2019 Archive Go to Campus News