Winter Break 2019
Campus News | Monday, December 2, 2019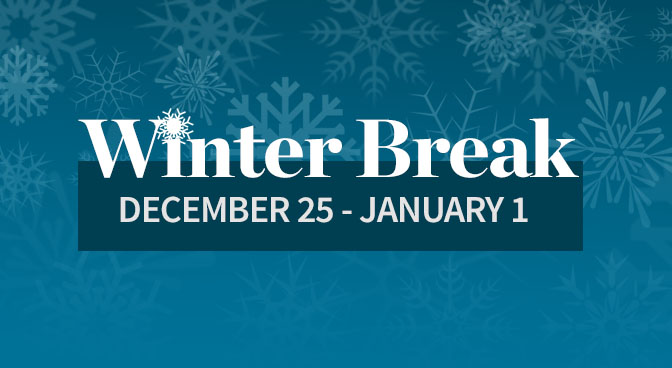 Columbus State will be closed over the holidays - contact us today to get your questions answered before the break.
Campus Winter Break is Wednesday, December 25, 2019 through Wednesday, January 1, 2020.
Offices will close at 3 p.m. on Tuesday, December 24.
Offices reopen at 8 a.m. Thursday, January 2, 2020.
The following will be closed:
The college is closed, and there will be no on-campus, in-person, or telephone student services available during the Winter Break.
Online registration and fee payment via CougarWeb will be available.
Students may apply for admission using the online application, although admissions decisions won't be made until we get back on January 2.
Avoid the holiday rush and register NOW for Spring Semester. Classes begin Monday, January 13.
Winter Break FAQs
Are services for students closed on all campuses and regional learning centers?
Yes. Offices will reopen at 8 a.m. Thursday, January 2, 2020.
What WILL I be able to access online during the Winter Break?
The college website: www.cscc.edu
All other web-based resources
Can I register for Spring Semester classes during this period?
Yes, using CougarWeb, you can log on and register for classes and pay fees. You can also access the Spring Semester Class Schedule to search for your classes. The fee payment deadline for Spring Semester is Wednesday, January 8, 2020, by 11 p.m.
What if I discover a restriction on my registration during this period and am unable to register?
If you have a financial restriction such as an unpaid fee, parking ticket, etc., you can pay it online; however, you may not be able to immediately register for classes. Other restrictions that require personal assistance—such as an academic restriction or financial aid restriction—may have to wait until January 2 or later to be resolved.
Can I call or email someone if I need help?
During the Winter Break, you may receive a bounce-back message to your email, which will be answered when the college reopens. The Telephone Information Center will also have a Winter Break message, instructing you to call back on January 2.
When is the best time to register or pay my fees?
You have until December 24 to select your Spring Semester classes and get answers to all your questions. If you encounter a problem or restriction registering for Spring Semester during the holiday period, wait until January 2, when all Student Services will be open to help you. The last day to pay fees for Spring Semester is Wednesday, January 8, 2020 by 11 p.m.
Classes begin Monday, January 13, 2020!
Go to 2019 Archive Go to Campus News