Columbus State, Mid-Ohio Foodbank Open New Food Market Supported By $700,000 Cardinal Health Foundation Grant
Campus News | Wednesday, October 16, 2019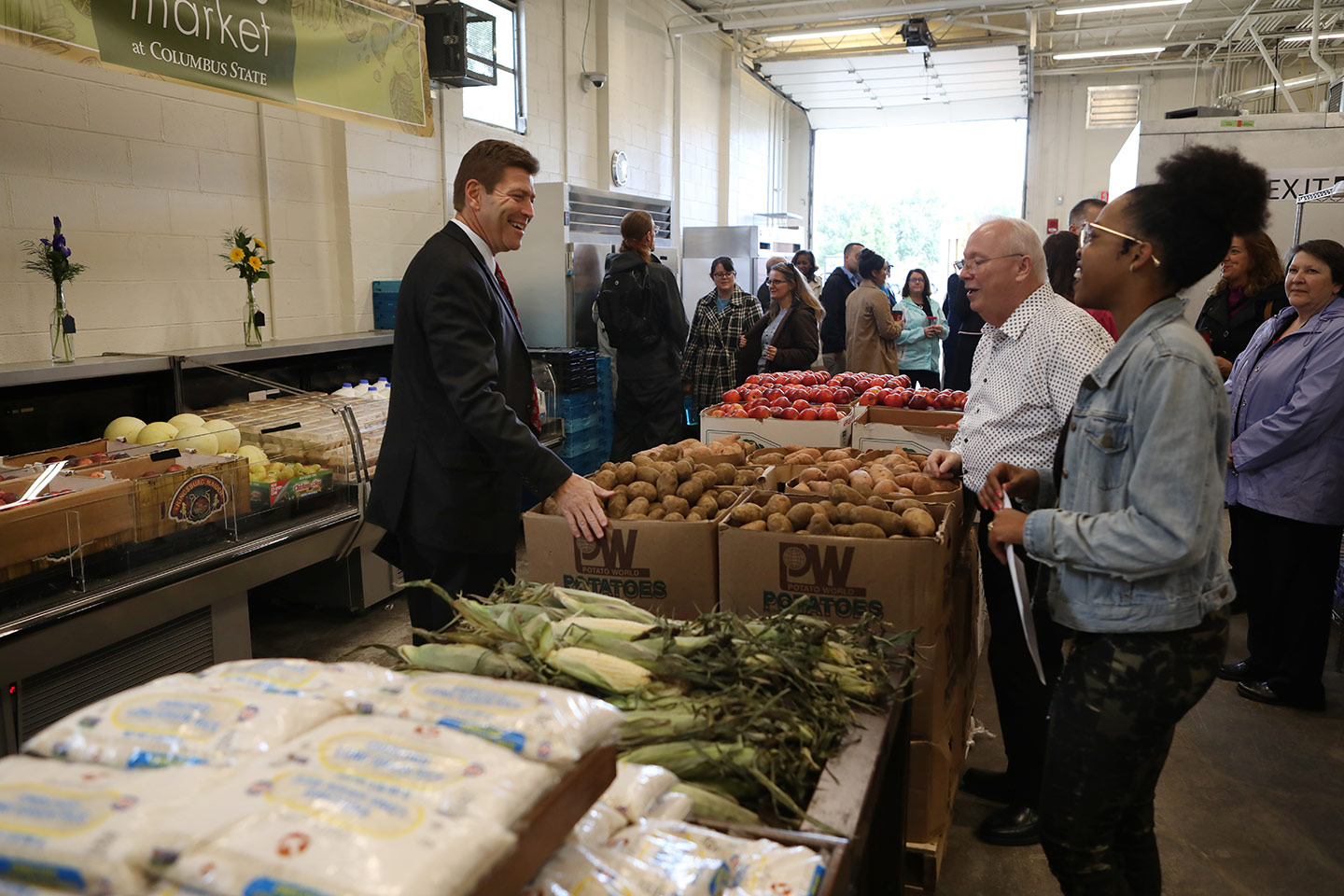 Columbus State President David Harrison (left) talks to attendees during the Dedication of the Mid-Ohio Food Market on October 15.
Columbus State Community College and Mid-Ohio Foodbank today dedicated the new Mid-Ohio Market at Columbus State, a new community food access point designed to address food insecurity for students and other area residents. The Market, at 400 Grove Street on the College's Columbus campus, is supported by a $700,000 Cardinal Health Foundation grant.
The Mid-Ohio Market at Columbus State will be a source of nutritious foods and referrals for the College to direct students who are struggling to provide food for themselves and their families, so they can more fully concentrate on their education without worrying about consistent access to fresh produce and other staples, while also serving the community at large.
According to the Hope Center for College, Community, and Justice's 2019 #RealCollege survey, 48 percent of community college students and 41 percent of four-year university students nationwide are food insecure. Nearly two-thirds of Columbus State students report food insecurity issues.
"The Mid-Ohio Market at Columbus State brings together proven partners to remove the very significant barrier of food insecurity for a large number of students and their neighbors," said Kathryne Reeves, Senior Vice President and General Manager, Distribution, Category Management and Presource at Cardinal Health, and the Vice Chair of the Cardinal Health Foundation Board. "We believe it will help thousands of Central Ohioans improve their lives, and the Cardinal Health Foundation is very proud to support it."
In addition to the Cardinal Health Foundation's gift, Kroger and Wasserstrom have also provided in-kind support of essential equipment that helped establish the Mid-Ohio Market at Columbus State.
The Mid-Ohio Market at Columbus State is open initially from 11 a.m.-4 p.m. Mondays, 4-8 p.m. Wednesdays, 11 a.m.-4 p.m. Thursdays and 9 a.m.-noon one Saturday a month, and will expand operational hours to 40-60 hours per week over time. The Market is housed in a converted 2,450-square-foot former maintenance equipment garage owned by the College. Representing an innovative, customer-centric distribution model for Mid-Ohio Foodbank, multiple Mid-Ohio Markets are envisioned across central Ohio and targeted partner locations within the Foodbank's footprint.
Eligible shoppers will have household income at less than 200 percent of the federal poverty level, which is less than $25,000 for an individual. By that standard, 61 percent of the population in the neighborhoods surrounding Columbus State are food insecure.
"This is a transformational solution that not only helps those who are struggling to access fresh food, but one that also integrates other social determinants of health by providing important wraparound services," said Matt Habash, President and CEO of Mid-Ohio Foodbank. "Too often, college students – many of whom are supporting families while trying to attend school – do not always know where their next meal will come from. Because hunger does not work in isolation, Mid-Ohio Markets can serve as an important site for access to additional resources, helping students and area neighbors when life happens."
"Partnering with Mid-Ohio Foodbank enables us to help our students with non-academic support removing a barrier to education success," said David Harrison, Columbus State President. "We are also grateful for the opportunity to better serve our neighbors with access to a critical service. Collaborating with trusted nonprofit and private sector partners allows Columbus State to deliver even better outcomes for our students, putting them on a career trajectory that will help them be successful once they graduate."
The College's faculty, staff and students will volunteer to help run the Mid-Ohio Market at Columbus State; students will also have paid work-study opportunities to help staff the market. The College's School of Hospitality Management and Culinary Arts will contribute to the market by preparing fresh take-and-go meals on a regular basis. Additionally, all tips from the College's new bakery/café and restaurant in Cameron Mitchell Hall will support Mid-Ohio Market at Columbus State operations.
As others look on, Matt Habash, Mid-Ohio Foodbank, left, Kathryne Reeves, Cardinal Health Foundation Board, center, and President David Harrison, right, hold up the $700,000 check at the dedication of the Mid-Ohio Market at Columbus State.
About Cardinal Health
Cardinal Health, Inc. (NYSE: CAH) is a global, integrated healthcare services and products company, providing customized solutions for hospitals, healthcare systems, pharmacies, ambulatory surgery centers, clinical laboratories and physician offices worldwide. The company enhances supply chain efficiency for clinically proven medical products, pharmaceuticals and cost-effective solutions. To combat prescription drug misuse, the Cardinal Health Foundation and its education partners created Generation Rx, a national drug prevention education and awareness program. The Foundation actively supports an array of other solutions, including efforts to reduce opioid prescribing, promote drug take back and safe disposal and expand collaborative community work.
Cardinal Health is backed by nearly 100 years of experience with operations in nearly 46 countries. For more information, visit cardinalhealth.com. Follow us on Twitter, Facebook and LinkedIn.
About Mid-Ohio Foodbank
Mid-Ohio Foodbank works in the community to connect our hungry neighbors with nutritious food, stabilizing families today while helping them access resources for tomorrow so they can thrive for a lifetime. The Foodbank is the largest hunger-relief organization in central and eastern Ohio. We acquire donated food from manufacturers, produce growers, retailers, food drives and businesses across Ohio and the country. We also receive food commodities through the U.S. Department of Agriculture and the State of Ohio. The Foodbank partners with an agency network comprised of some 680 local charities across 20 counties to provide food directly to people in need. To learn more, visit midohiofoodbank.org.
About Columbus State
Columbus State is one of the largest comprehensive colleges in Ohio, currently serving more than 46,000 students and contributing nearly $1 billion annually in regional economic impact. It is the only community college in the nation to earn the three key national distinctions of a Guided Pathways college, an Achieving the Dream Leader College and a Right Signals Initiative college, and in 2019 received the Leah Meyer Austin award, the highest honor a college in Achieving the Dream's network can earn. For more information, visit www.cscc.edu.
Go to 2019 Archive Go to Campus News