Young Men of Color in STEM
Credits Count Young Men of Color in STEM Careers Conference @
The Credits Count Young Men of Color in STEM Careers Conference is a one-day intensive study of STEM careers where students will experience: hands-on STEM challenges facilitated by real STEM professionals college faculty, near-peer mentorship from STEM degree seeking college students, and inspirational speakers.
Nearly 250 6th – 8th graders participated in the 2018 conference. You can check out photos from last year's conference below.
To attend the 2019 Conference, register here.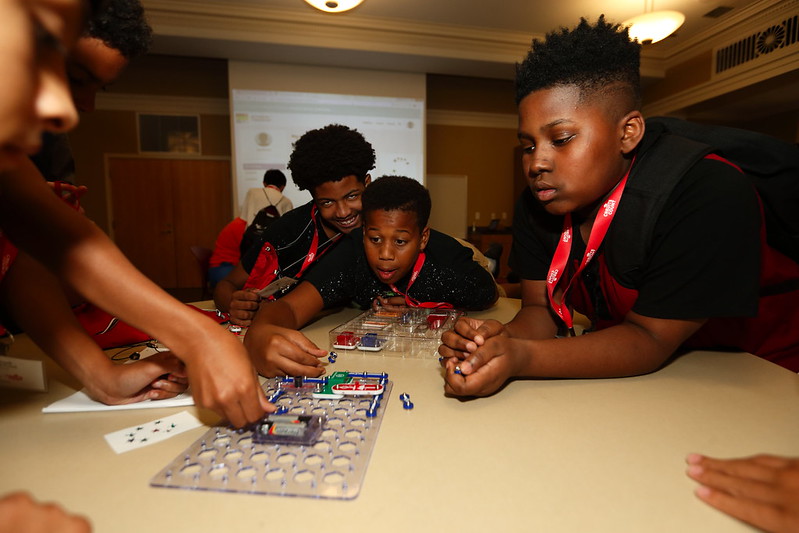 2019 Keynote Speaker
Maurice Womack
Maurice has over 15 years experience as a mechanical engineer. Maurice has held positions at Battelle, the Defense Logistics Agency, and MS Consultants. While at Battelle, his role as a research engineer afforded him the opportunity to design and develop advanced energetic systems and security technology for many agencies within the U.S. Department of Defense. Currently, Maurice is a Lead Engineer for the Defense Logistics Agency.
Maurice is also a former adjunct instructor of Engineering Technology at Columbus State Community College (CSCC). His position at CSCC gave him great insight into student interest in STEM and he has taken those insights and embarked on a mission to introduce as many youth as possible to quality STEM learning experiences. Maurice accomplishes this mission through OASIS, his startup born to "bring STEM Clubs to All" by combining technology, a network of STEM Coaches committed to leveling the playing field, and innovative STEM curriculum.
Maurice's speaking engagements have included: Columbus City School's Imagine Me conference, Youngstown's Teen Summit, the 2018 National Urban League's Annual Conference, the Columbus Urban League's Hackathon and many more. Maurice recently released the STEAM Kid Life video/song with hopes to inspire youth to pursue a life of innovation, creativity, and entrepreneurship.
Workshop Title

Presenter(s)

Description

Honda: Engineering and Microcomputers

Scot McLemore - Honda

Students will meet the Honda team, learn about microcomputers and be challenged to solve programming puzzles using a microcomputer. Prizes will be awarded.

Robo Master STEM Lab

Maurice Womack

Students will learn how mecanum wheels allow omnidirectional movement of robotic vehicles. Students will see the mecanum wheels in action on on robots and participate in team races.

Patient Zero

Amiee Wagner - Franklin University and Chloe Hart

Pathogens, such as viruses and bacteria, are on nearly every surface that we touch. People frequently touch their eyes, nose, and mouth (and other people!) without even realizing it. These pathogens are passed quickly from person to person. One infected person (patient zero) can easily infect a whole classroom in less than one hour!

DNA Extraction

Angela Howard - Columbus State

Students will obtain their own cheek cells and then extract the DNA. Students will walk away wearing their own DNA in the form of a necklace.

Anatomy of a Computer

Telly Williams - Columbus State

Students will receive a hands on education! Students will take apart a PC to identify parts and view a video presentation on the anatomy of a computer.

Architecture and Technology


Jonathan Moody - Moody Nolan

Sam Brown- Moody Nolan

We will be looking at how we use virtual reality to explore the built environment and experience different places from around the world and locally.

Digital Flagship Hands-On Colding w/ Robot

Brenden Dickerson - The Ohio State University

Students will engage in hands-on coding with robots.

Paper Speakers

Theron Easley - Kiewet Engineering Group Inc. and Demetrious Clark

Be an engineer! We'll use our knowledge of science to make something useful. We will build a speaker that you can plug into a phone or mp3 player. You get to keep it!

Germinator

Cynthia Canan - OSU/COSI and Tywan Banks - Columbus State

Antibiotic resistance is an increasing threat to global health and requires individual understanding and action. In this activity, students will develop their own hand sanitizer and test its effectiveness.

The Kinetic Chain and Performance

Maurice Chatman - Moe Fitness LLC

This event will discuss the function of the kinetic chain as it directly relates to movement, athletic performance, and muscle growth. This workshop will be key for anyone who experienced an injury in the past or struggle with range of motion.
Department Contact
Academics Department
(614) 287-0000