Alleigh Bradley
Admissions Representative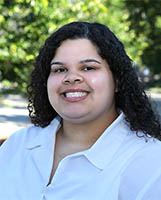 ALLEIGH BRADLEY, M. Ed.
Admissions Representative
---
Quick Facts
Your Hometown:
Norwalk, Ohio
Your Degree(s) and School(s):
B.A. in Communication & Public Relations, Capital University
Your Hobbies:
I enjoy listening to music, community service, cooking, watching TV/Netflix, shopping and occasionally making various crafts.
A Word or Phrase That Best Describes You:
Enthusiastic


---
Get To Know Me
Where Do You Hang-Out In Columbus?
If I'm not at home you can typically find me in a store shopping in my free time.
What Was Your Favorite Class In College and Why?
Public Relations Research was my favorite class because I tend to be analytical about things going on around me and that was the main focus for most of our class work.
What Do You Love About Columbus State?
I love the warm inviting presence that Columbus State gives to both the students and staff.
What Advice Would You Give To Incoming, New Students?
Take a moment to step out of the class and experience some of the additional opportunities that Columbus State Community College has to offer like the various leadership roles, sports and or clubs. Gaining these experiences can help you find additional skills that could be beneficial down the road.
Your Current Role At Columbus State and How Your Role Helps Students?
I'm an Admissions Representative and I help guide students through different opportunities that Columbus State has to offer and help them get a better understanding of college life and decide what journey to take on.