Columbus State commencement set for May 12; Record College Credit Plus graduates
Campus News | Tuesday, May 9, 2023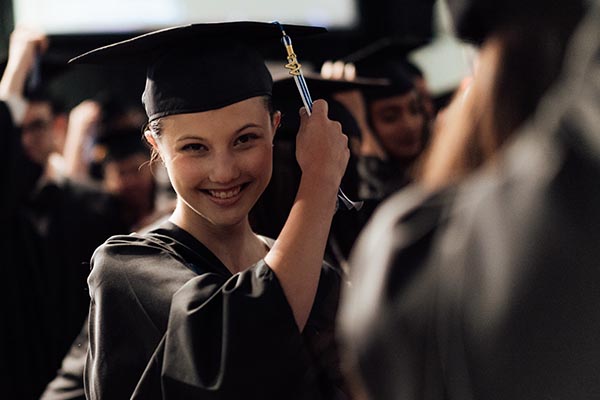 A record number of College Credit Plus (CCP) students – 55 – will earn associate degrees before receiving their high school diplomas at Columbus State Community College's 205th commencement ceremony this week. In all, more than 1,175 students will earn degrees.
Ella Edna Bugutsa Bwonya, 22, was born in Kenya and moved to the United States in 2020. She chose Columbus State because, she said, "The community here appeared to be very warm and inviting," just like her homeland. She has excelled as a campus leader in various student organizations, including as president of the Black Student Union, and has served as an Ex-Officio student member of the Board of Trustees. Bwonya will take her Computer Science and Information degree – and 4.0 GPA – as she pursues a bachelor's degree and then medical school. Her aspirations include opening a free clinic to treat burn victims in Kenya.
26-year-old Brandon Simpson is a first-generation college student who was unsure if he would do well in college after struggling in school. "I had motivation issues," he said. As a student with autism, Simpson overcame previous challenges. "I focused intensely on my studies, consecutively getting a 4.0 GPA each semester." Simpson will earn an Associate of Arts in Business and transfer to Ohio State's Fisher College of Business to get a degree in finance.
Thanks to Ohio's College Credit Plus program allowing students to take college courses while earning high school and college credits simultaneously, a record 55 students will receive an associate degree ahead of their various high school graduation ceremonies.
Ava Wandersleben and Frankie Madosky are among them. Both are 18 years old and earning Associate of Science degrees. Wandersleben, whose home school is Watkins Memorial High School, said, "Without Columbus State, I wouldn't be able to afford to attend my dream college next fall." She will pursue a bachelor's degree in computer science from the Georgia Institute of Technology.
Madosky began taking college classes at Hamilton High School as a sophomore. She ended up taking 40 credit hours in just a three-semester span to earn her degree ahead of high school graduation. Madosky will attend Capital University to pursue a bachelor's degree in biology and a master's program focusing specifically on botany.
The Commencement Address will be provided by famed Columbus-based restaurateur Cameron Mitchell who operates signature fine-dining establishments nationally. In addition, Mitchell provided a generous $2.5 million donation to assist with public and private funding for a new culinary arts building bearing his namesake. Mitchell Hall opened in 2019 and is home to the School of Hospitality Management and Culinary Arts.
The commencement ceremony will be Friday, May 12 at 11 a.m. at the Celeste Center on the Ohio State Fairgrounds, 717 East 17th Ave., Columbus. A live stream of the event will be available at: https://livestream.com/cscc.
Go to 2023 Archive Go to Campus News