Partners Announce Free Community College for Columbus City Schools Graduates
Campus News | Wednesday, November 10, 2021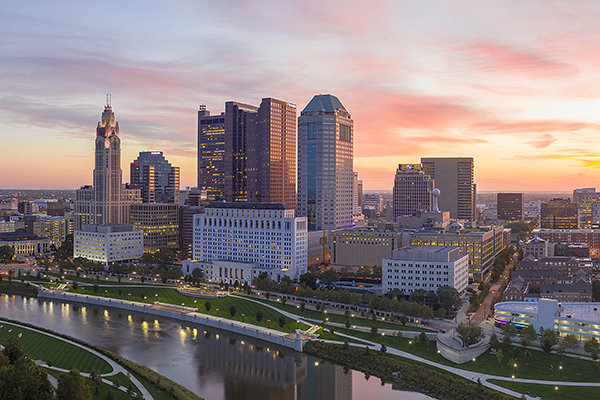 City of Columbus, Columbus State Community College, Columbus City Schools, I Know I Can, and Private Partners Launch Phase One of the Columbus Promise
City leaders today announced phase one of the Columbus Promise program: tuition-free education at Columbus State Community College for Columbus City Schools graduating seniors.
Apply for fall now at cbuspromise.com
"If we want Columbus to be the best place in America to learn, earn, and find your career, then we as a community need to make bold investments in education," said Council President Shannon G. Hardin. "Our city has too many folks working hard, not earning enough while simultaneously good-paying jobs sit unfilled. The Columbus Promise is a strategy to get our young people the skills and credentials they need to be prepared for the jobs of today and tomorrow."
The City of Columbus, Columbus State Community College, I Know I Can, and Columbus City Schools developed the Columbus Promise based on a national model used in other cities and states. Students who graduate from Columbus City Schools during phase one of the program (classes of 2022, 2023, and 2024), complete the Free Application for Federal Student Aid, and an application to Columbus State can attend Columbus State full-time or part-time for up to six semesters to complete a two-year degree or shorter certificate program.
"The Columbus Promise represents a shared commitment to close equity gaps and ensure opportunity for all students," said Columbus State President Dr. David T. Harrison. "This is a major step forward for students and families."
Once in college, students maintain funding as long as they maintain federal aid standards for satisfactory academic progress. In addition to covered tuition and fees, Columbus Promise Scholars will receive up to $1,000 annually for transportation, books, and other life expenses. Columbus State Community College will implement a robust set of wraparound career, academic, and financial supports to help more students complete, including dedicated Promise coaches with small student caseloads.
"The Columbus Promise represents an incredible opportunity for current Columbus City Schools seniors and our future graduates. This promise has the opportunity to change entire trajectories for our children," said Columbus City Schools Superintendent and CEO Dr. Talisa Dixon. "This investment from city leaders and community partners allows a college education to become a reality. The knowledge and experiences students will gain at Columbus State is going to equip them with skills needed for their continued academic success and prepare them to enter the workforce."
Research indicates that 65% of Central Ohio jobs will require at least an associate degree or industry-recognized credential by 2025. Franklin County currently sits at 49.2%, more than 15% below that mark, partially because of large racial inequities. If pre-pandemic trends continued, it would take our community until 2060 to reach this 65% goal.
Furthermore, leading indicators suggest that the pandemic devastated college attendance among students in urban districts across Ohio. The future of economic development is in talent development, and the Columbus attainment rate is trailing peer cities like Pittsburgh, Minneapolis, and Nashville. Declining postsecondary education rates pose a threat to both economic mobility for residents and economic competitiveness for the Columbus region.
"I Know I Can is proud to serve as a key partner of The Columbus Promise initiative. Providing access to postsecondary education and training opportunities directly aligns with our mission," said I Know I Can Executive Director Katina Fullen. "For over 30 years we have been supporting the students of this city, and we are excited to administer this new program to help ensure their success and pathway to a brighter future."
I Know I Can and Columbus City Schools will conduct intensive marketing and recruitment over the course of this school year to ensure students know how to become Promise Scholars. I Know I Can's in-school college advising managers will assist students to fill out the FAFSA and apply to Columbus State Community College. With support from local employers like Nationwide Insurance, students will also have access to "learn and earn" paid job and internship opportunities during their time at Columbus State.
"The only way we can reach our full potential as a city is if everyone shares in our collective success – and that means investing in every individual who calls Columbus home, especially our young people," said Mayor Andrew J. Ginther.
The City of Columbus serves as the overall program champion and is investing the initial $4 million to seed the Columbus Promise Fund, which will be managed by the Columbus Foundation. Council will legislate the initial public investment later this year.
The estimated costs for phase one, including three years of Columbus State tuition and wraparound service support, amounts to approximately $9.5 million. The cost will be split between public and private sponsors. The City of Columbus will contribute $4 million over the course of phase one and Columbus State will contribute $1 million to fund student success efforts for Promise Scholars.
"The Columbus Partnership strongly supports the Columbus Promise, a powerful initiative that will accelerate workforce development and increase equity across the Columbus Region," said Columbus Partnership President and CEO Alex Fischer. "The Columbus Promise will catalyze higher levels of educational attainment, innovation and career opportunities for residents throughout our community."
The remaining $4.5 million will be raised from the private sector and philanthropy. Corporate and philanthropic partners have already begun to step up. Over $1.5 million has been raised to date between commitments from American Electric Power, Jeff Edwards, DLZ's Ram Rajadhyaksha, Denison University, and the Columbus Foundation.
"The Columbus Promise is a thrilling initiative that will further open the door of opportunity in Columbus," said Dr. Kristina M. Johnson, president of The Ohio State University. "Together with Ohio State's debt-free degree initiative, the Columbus Promise demonstrates that our community is united in the commitment to provide pathways for all students to succeed in college and in life. We will continue to focus on access and affordability through Ohio State's historic partnerships with Columbus City Schools, I Know I Can and Columbus State Community College."
External evaluators will be brought on to analyze the impact of phase one's three-year duration. Based on those results, program sponsors and community leaders will consider program expansion to other school districts, universities, to adults, and more.
"Together we can ensure that every member of the Central Ohio community has access to the education they need and deserve," said Denison President Adam Weinberg. "The Columbus Promise is a huge step in that direction. I am proud that Denison can play a role and be part of the effort to advance our city and region."
The first promise program was developed more than 15 years ago in Kalamazoo, Michigan. Since then, the concept has spread to more than 150 communities across the nation including more than seven states. Researchers have been able to study what works across the many programs from around the country. Well-designed promise programs can improve high school GPAs, graduation rates, college enrollment rates, and college completion. Additionally, programs can yield economic benefits - promise scholars earn more long term, communities reduce brain drain, and local tax receipts grow.
"While tuition-free college may be stalled nationally, the announcement of the Columbus Promise shows that momentum continues at the local and state level," said Professor Michelle Miller-Adams of the Upjohn Institute and Grand Valley State University, who consulted on the Kalamazoo Promise and other programs. "By including part-time and DACA students, avoiding high GPA requirements, and offering aid beyond tuition and fees as well as wraparound success and transfer pathways, the Columbus Promise offers an example of strong program design that will benefit both students and the community."
To learn more about the Columbus Promise, visit cbuspromise.com. To answer questions that students and parents might have about this historic opportunity, Columbus City Schools will host a Virtual Family Engagement Session on Thursday, November 11, from 6:00 - 7:00 p.m. on Zoom and share more about the Columbus Promise. Families can sign up to attend the session at www.ccsoh.us/RSVP.
"The Columbus Promise will make it possible for students to advance toward the American Dream by giving them the knowledge, skills, support, and resources to remove the barriers that prevent their success," said Dr. Martha Kanter, CEO of College Promise, and former U.S. Under Secretary of Education for President Barack Obama. "We applaud the Columbus Promise public and private sector leaders for working together to give these unparalleled opportunities to their students."
Go to 2021 Archive Go to Campus News