Columbus State will host 'Diversity in Hospitality: Black Chefs Speak Out' live virtual panel discussion December 2
Campus News | Friday, November 20, 2020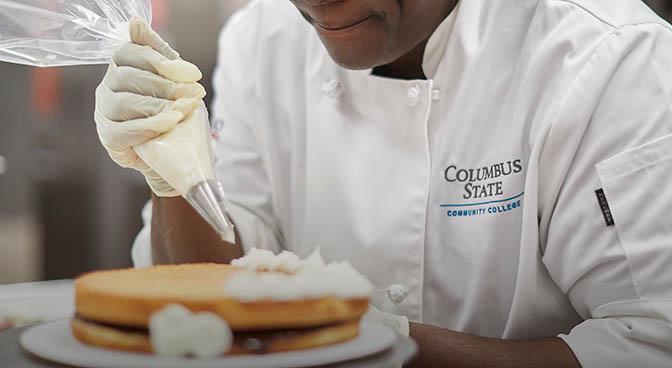 The restaurant industry is facing a racial reckoning. Spurred by this summer's racial justice protests, many in the world of dining and hospitality are reevaluating their commitment to diversity and inclusion.
To further the conversation, the Columbus State School of Hospitality Management & Culinary Arts and the Columbus State Foundation will present Diversity in Hospitality: Black Chefs Speak Out, a live virtual panel discussion. Local Black chefs and industry professionals will share their experiences and discuss solutions the industry should adopt to create a more equitable system.
The event will feature:
Linda Berry, Culinary Instructor at Cleveland School of Cannabis
Katie Laudick, vice president of human resources at Cameron Mitchell Restaurants
Matthew Heaggans, owner of Preston's: A Burger Joint
Kaitlin McNeish, director of operations and human resources at the Ohio Restaurant Association
Shelia Stewart, pastry chef at Barcelona and a 2017 Columbus State graduate
Joshua Wickham, Senior Director of the School of Hospitality Management & Culinary Arts at Columbus State Community College
Wickham, CEC, CEPC, AAC and a 2001 Columbus State graduate says, "This is a critical discussion to explore ways to advance diversity in our industry from attracting talent into the career pipeline to creating a more equitable path to leadership opportunities across the dining and hospitality spectrum."
The event will be moderated by Brittany Moseley, assistant digital editor for Dispatch Magazines, and Royce Carpenter, assistant professor and the Diversity, Equity, and Inclusion faculty fellow at Columbus State.
Registration for this free session, which will be hosted on Wednesday, December 2 from 6-8 p.m., is available at this link.
Go to 2020 Archive Go to Campus News