National award presented to Columbus State
Campus News | Thursday, February 21, 2019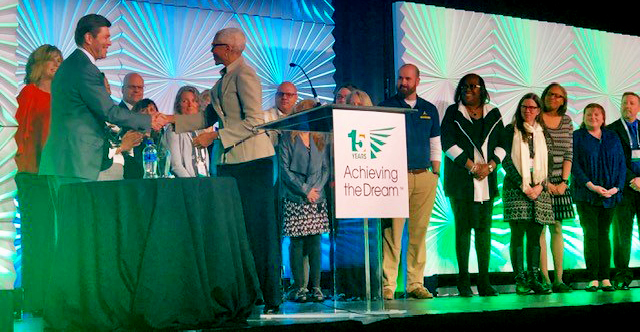 This was a big week for Columbus State as the College was recognized for dramatic improvements in college completion rates.
At the annual Achieving the Dream (ATD) meeting in California Feb. 19, Columbus State was named a 2019 recipient of the Leah Meyer Austin Award. It's the highest honor a college in the ATD network can earn. ATD says the award is given annually to a college or colleges in the ATD Network showing measurable improvement in student outcomes driven by "top-to-bottom cultural change in the institution." (Amarillo College in Texas was also recognized this year.)
Since joining Achieving the Dream in 2012, the College has methodically advanced difficult, complex, initiatives and interventions to help students succeed, bringing promising practices to scale as quickly as possible. Columbus State committed then to take a data-driven approach to improving student outcomes, disaggregating data to understand the barriers faced by different student groups. All of this work continues, but the results have been impressive. The success gap has been reduced by 50 percent for low-income students and by 24 percent for students of color. Completion rates for African American students have improved by over 11percent. When you consider the size of our student body, averaging around 27,000 students per semester, these percentages translate into changing the lives of thousands of students.
News of the award led to coverage locally and in trade publications:
Go to 2019 Archive Go to Campus News