Commemoration ceremony among Columbus State Veterans Week events
Campus News | Wednesday, October 30, 2019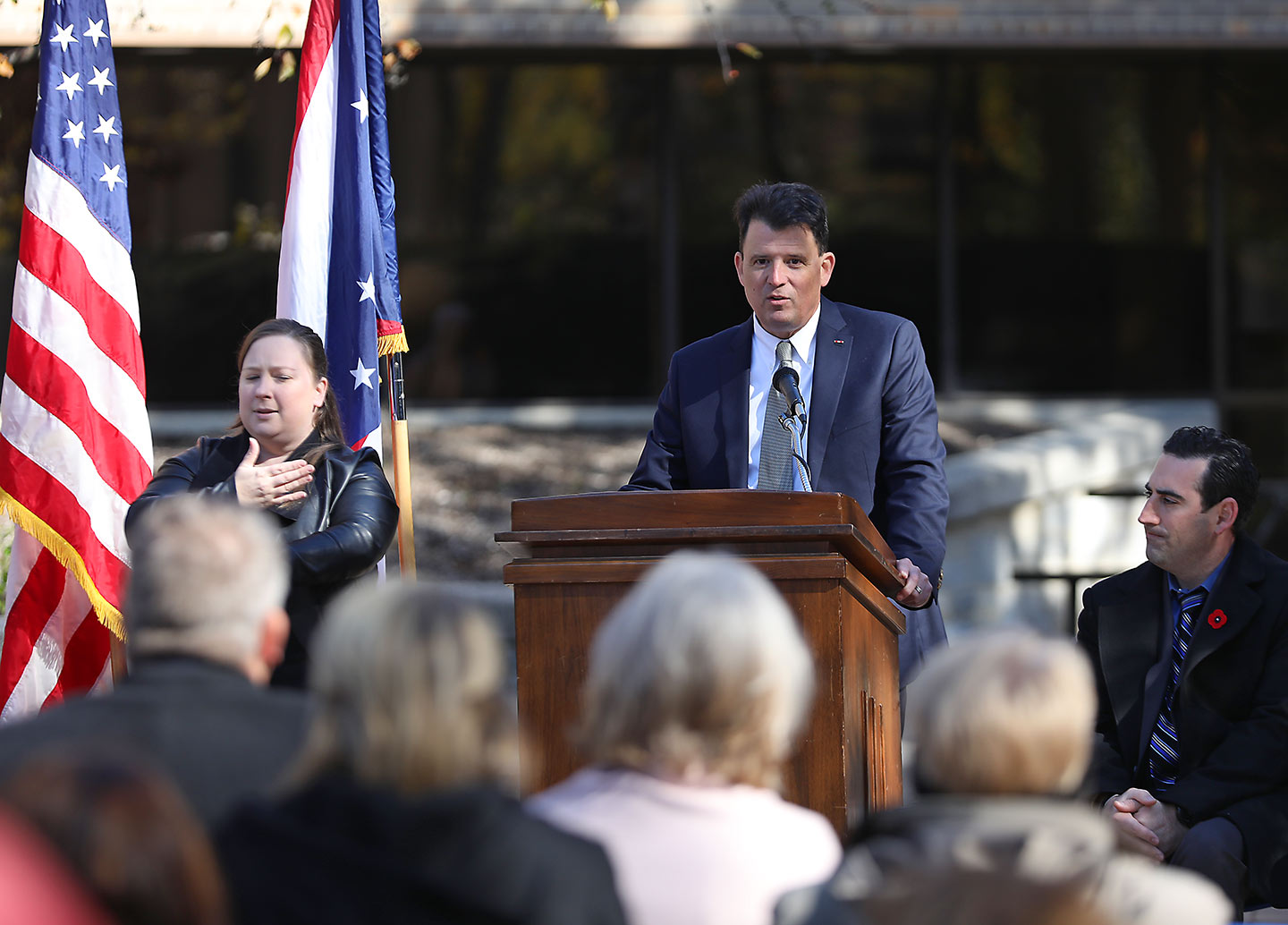 Update, Tuesday, Nov. 12: Sean McCarthy, assistant director of the Ohio Department of Veterans Services, provided keynote remarks at Columbus State's eighth annual Veterans Commemoration Ceremony last Wednesday. McCarthy (at podium above) said, "We are grateful for what Columbus State does for veterans in the community." President Harrison and Jay Favuzzi, director of Military and Veterans Affairs, also spoke. The Commemoration was one of several Veterans Week events.
Also, last week, Columbus State was ranked No. 6 in the nation as a "Best for Vets Colleges." The newly released rankings are based on the results of an annual survey by Military Times. It's considered the most comprehensive school-by-school assessment of veteran and military student services and rates of academic achievement, as well as a detailed review of public data collected by federal agencies.
---
Columbus State will salute staff and student veterans at its eighth annual commemoration ceremony to honor America's veterans for their patriotism, love of country, and willingness to serve and sacrifice for the common good. The event will include the singing of the National Anthem and appreciation remarks.
Sean McCarthy, assistant director of the Ohio Department of Veterans Services, will provide keynote remarks. McCarthy was appointed as the assistant director this year. Previously, he served as the chief legal counsel for the agency from 2015-2019. McCarthy served as an assistant prosecutor for Franklin County and was a judge for both the Franklin County Common Pleas and Municipal courts.
McCarthy volunteered for military duty after September 11, 2001, and was commissioned in the Ohio Army National Guard. He was deployed to Afghanistan with the 37th Infantry Brigade Combat Team.
More than 900 military veterans take classes at Columbus State each semester. A three-person Military and Veterans Affairs Department assists veterans enrolled at the college.
Because Columbus State is closed on the official Veterans Day holiday, the half-hour commemoration ceremony will take place at noon on Wednesday, November 6 in front of Franklin Hall, 227 Jefferson Ave., Columbus. (Rain location: Franklin Hall 110.)
Other Veterans Week events include (Veterans Week Flier)
Veterans Luncheon 2019, Tuesday, November 5 from 11 a.m.-12:15 p.m. in Eibling Hall 005
Veterans Resource Fair, Thursday, November 7 from 11 a.m.-2 p.m. in Nestor Hall
Veterans Day Parade, Friday, November 8. Parade forms at 10 a.m. at Nationwide Blvd.
Suicide prevention training, Friday, November 15 from 1-2:30 p.m. in Nestor Hall 315
Go to 2019 Archive Go to Campus News