$1.2 million donation designed to improve student success
Campus News | Monday, June 24, 2019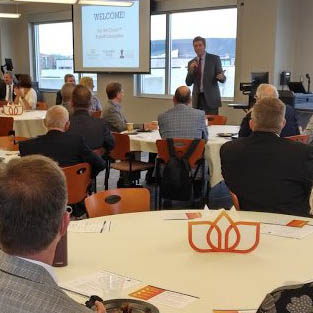 President David Harrison provides remarks during the public announcement of Stay the Course™ last Thursday (June 20) in the WD.
When Catholic Social Services recently received a $1.2 million award, the service organization announced it would partner with Columbus State Community College to improve degree completion. The funds will be used to replicate a program known as Stay the Course™.
Initially developed by Catholic Charities of Fort Worth, Stay the Course™ helps students address personal, economic, and social barriers to college success through intensive case management and emergency financial assistance.

When paired with a case manager, students increase their success of graduating at a rate 4x higher than those who don't receive these services. What's more, 35 percent of female Stay the Course™ students graduated three years after enrollment compared to less than 1 percent in the comparison group.

Catholic Social Services (CSS) and Columbus State will now replicate Stay the Course™ and participate in a research study to find ways to match or exceed past results. CSS will add five employees to implement Stay the Course™ at the College. Three will work directly with students on the Columbus Campus. The grant includes resources for emergency financial assistance to Columbus State students.
Go to 2019 Archive Go to Campus News