Danielle Sanborn
Admissions Representative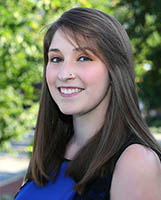 DANIELLE SANBORN, B.A.
Admissions Representative
---
Quick Facts
Your Hometown:
Worthington, OH
Your Degree(s) and School(s):
Associates of Arts, Columbus State Community College
B.A. in Communications; Minor in Education, The Ohio State University.
Your Hobbies:
Listening to Music, Watching TV/Netflix, Kayaking, Spending time with Family.
A Word or Phrase That Best Describes You:
Go-Getter
---
Get To Know Me
Where Do You Hang-Out In Columbus?
Polaris area
What Was Your Favorite Class In College and Why?
Crisis Communication. It taught me how to think on my feet and that with enough preparation there is no question that can't be answered.
What Do You Love About Columbus State?
The thing I love most about Columbus State is that there is something for everyone. There are programs that can be completed as several levels of education with all kinds of options to choose from.
What Advice Would You Give To Incoming, New Students?
Don't be afraid to ask questions. There are so many opportunities for students in College, as long as you are comfortable enough to ask questions you will do fine. Different support systems are available for students, you just need to take a chance and ask.
Your Current Role At Columbus State and How Your Role Helps Students?
I am an Admissions Specialist here at Columbus State. I am here to help recruit High School students and help them find the best options for life after High School.