Staff Advisory Council
Building a strong, connected campus community
The Staff Advisory Council (SAC) is a group of dedicated staff members from departments and divisions throughout the College. We're your co-workers, colleagues, and friends, so you can be confident that we share your desire for a great working environment at Columbus State.
Commissioned by our College president and sanctioned by our Board of Trustees, SAC serves an important link between staff members and College leadership. We are your liaisons to College leadership regarding ideas and issues that impact Columbus State staff.

SAC Serves our employees by:
Evaluating and making recommendations about institutional and staff development initiatives
Participating in the Ohio Staff Council of Higher Education (OSCHE), a statewide organization dedicated to establishing and sharing best practices
Maintaining and awarding a Book Scholarship Fund for staff and students who are taking Columbus State classes
Serving on College committees to improve College practices and initiatives
Providing a forum for members to demonstrate leadership skills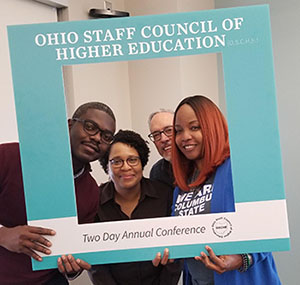 Get Involved!
We invite you to join us whenever you have the opportunity!
Department Contact
Academics Department
(614) 287-0000