Staff Employee of the Month 2022
Full-Time

Part-Time
Rachel Yoder, Information Technology technician, was named February's Part-time Staff Employee of the Month. She came to Columbus State in 2010 and began working in the IT Support Center. She is now part of the Knowledge and Training team and was nominated byMichelle Guendelsberger, IT program coordinator, and four colleagues. Guendelsberger's nomination says, "When we found out (in 2020) the campuses were closing, Rachel worked tirelessly to help write and edit Knowledge Base articles for our College technology at a record pace. The new resources provided step-by-step directions for employees to be successful with remote work. She also assisted with the Online 101 resource for students. She is a true team player and always willing to help with any task that comes her way.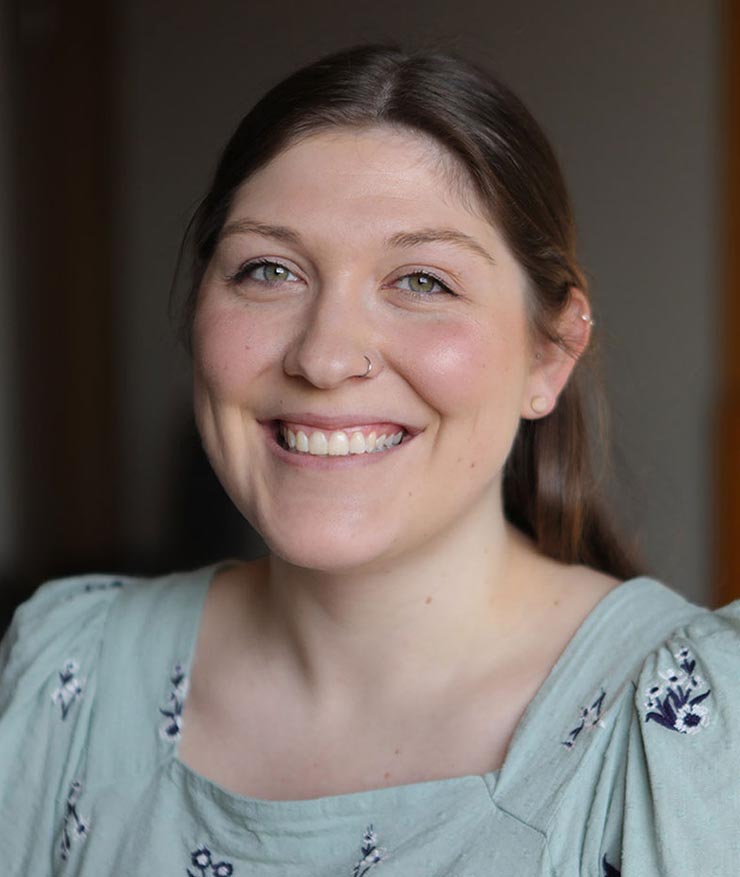 The Part-time Staff Employee of the month is Morgan Becker. She has been with the College since 2019 and serves as the practicum coordinator of the Early Childhood program. She was nominated by Professor Christine Creagh, who pointed out in her nomination letter that placing students at early learning centers was "no easy task" during the pandemic. "Morgan went above and beyond to locate new sites and develop creative opportunities for students to stay on track toward graduating," said Creagh. Stacey Raymond, Becker's supervisor and Human Services chairperson, said, "Morgan was able to think outside the box and work closely with faculty to come up with solutions that enabled our students to complete the hours necessary for graduation."
Staff Employee of the Year (2021)
Elicia Flom
Instructional Designer in Workforce Innovation
Start Date: 12/03/18 - 4 years!
Nominated by: Tara Sheffer

Tara writes, "Elicia's commitment and enthusiasm for her work and Columbus State goes above and beyond. She supports non-credit instructors to help them become better educators and to ensure all students experience a high-quality learning environment. Elicia brings curiosity and joy to her work. She truly loves instructional design, learning new subjects, and creating holistic courses and learning objects that will shape the student experience. Elicia has worked tirelessly to assist students, instructors, and multiple teams at Columbus State to build and sustain our non-credit, workplace skills programs. Elicia thinks about what the student should be getting out of every moment of the class and works to mitigate any barriers that might prevent them from getting that full experience. Thus, the learning objects Elicia crafts employ best practices in Universal Design and Accessibility, are compatible across multiple computer systems, and utilize learner-centered pedagogy."
Nominate a Colleague
Staff employees can be nominated for Staff Employee of the Month for making a difference to Columbus State, going above and beyond expectations, excelling as a team player, or striving to bring out the Columbus State "spirit" in others. To nominate a colleague, click on the forms below.
STAFF EMPLOYEE NOMINATION FORM

Previous SEOM Award Winners

2021 Staff Empoyee of the Month page

2020 Staff Empoyee of the Month page
2019 Staff Employee of the Month page
2018 Staff Employee of the Month page
Department
Contact
Paula Teeter
Program Coordinator
(614) 287-5183
Related Categories