Student takes second place in state competition
Update | Tuesday, March 10, 2020
Michael Foy Armstead won second place in a statewide competition on February 21. Armstead is a Columbus State Louis Stokes Alliances for Minority Participation (LSAMP) Scholar.
His second-place finish was earned during the Louis Stokes Midwest Regional Center of Excellence (LSMRCE) and The Ohio LSAMP Alliance poster competition in Cleveland. That poster also earned the People's Choice Award at the event. See the poster at this link.
This competition took place at the Eaton North American Headquarters. Eaton provides energy-efficient solutions that help customers effectively manage electrical, hydraulic, and mechanical power more efficiently, safely, and sustainably. Eaton is a power management company with 2018 sales of $21.6 billion, 100,000 employees, and customers in more than 175 countries.
Columbus State LSAMP Program Investigator Ruey Bruce took 15 Columbus State LSAMP Scholars to the event to experience partnerships between academia and industry which are crucial to helping STEM students explore their career pathways. It also allowed them to understand the application of STEM in real-world contexts.
This was just the latest success for Armstead. Last year he received a $5,000 Summer Research Scholarship grant from the Columbus State LSAMP alliance. That grant financed his recent research, "Enhancing Bimolecular Force Spectroscopy" at Ohio State University.
The Columbus State LSAMP leadership team includes Lisa Schneider, Ruey Bruce, and Laura Shady.
(Below: Top picture: Michael Foy Armstead, on the right, receiving second-place honors. Bottom picture, the Columbus State LSAMP Scholars. )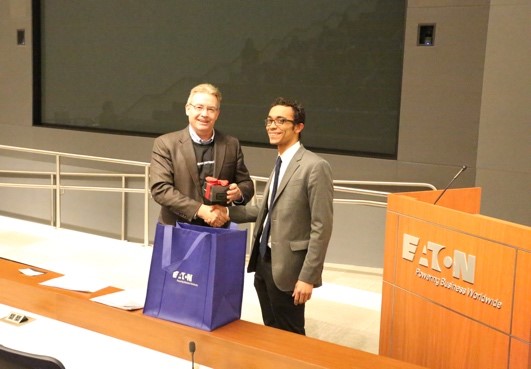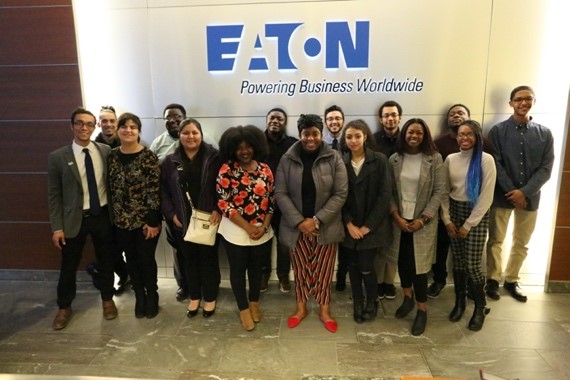 Go to 2020 Update Archive Go to Employee Update