Students awarded scholarships
Update | Tuesday, March 3, 2020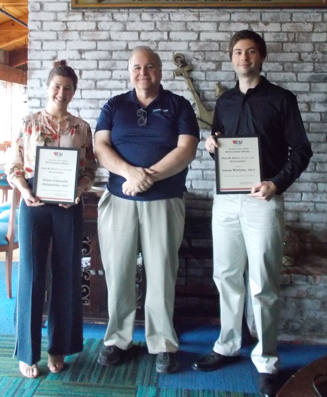 (Left, Delamotte, Bortz, and Lucas)
Two Design Construction & Trades Department students have received a Dean M. Bortz CSI CDT CCPR Scholarship. Grace Ciminillo Delamotte, who is a College Credit Plus student, was awarded $1,250. Travis Lucas was awarded $500. Both are Construction Management students at Columbus State. Delamotte is working on starting a design-build firm. Lucas wants to design using 3-D modeling (BIM) and work in a construction or design firm.
The scholarships were awarded by the Columbus Chapter of the Construction Specifications Institute (CSI) on February 11 at the organization's monthly CSI meeting at the Boathouse at Confluence Park. Also attending were Kelly Simons, SVP and chief academic officer, Carmen Daniels, dean of Business, Engineering & Technology, and Doug House, chair of Design, Construction & Trades.
CSI is an international organization specializing in organization format tools and education of the design-build-manage construction industry. The scholarship has been awarded since 2013 for use for all Columbus State expenses for the next term.
Go to 2020 Update Archive Go to Employee Update