Pesto Championship to be held at Columbus State
Update | Monday, December 2, 2019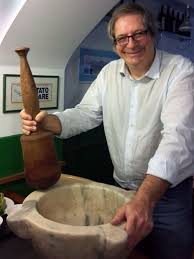 Greater Columbus Sister Cities International and Columbus State Community College are pleased to announce that the 2020 Columbus Pesto Championship will be returning to Columbus on January 26, 2020.
Ten local contestants will be selected to participate in the Championship at Mitchell Hall. The competition will be judged, in part, by Roberto Panizza, the "King of Pesto" who started the World Pesto Competition in our Sister City of Genoa, Italy. The winner of the Columbus Pesto Championship will be flown to Genoa and given the opportunity to compete in the Genoa World Pesto Competition on March 28 next year.

Applications are available at this link until January 3, 2020.

The BBC named Panizza the King of Pesto, and he founded the Genoa World Pesto Championship in 2007. His goal is to conserve the traditional method of preparing Genovese pesto, both by using traditional ingredients and by preparing it in a mortar and pestle.
Go to 2019 Update Archive Go to Employee Update