Don't miss food trucks and demos! Come down to see welding trucks, fire trucks, COSI, superhero physics and more! Demo Schedule
Our keynote speaker is Dr. Shane Lopez, author of Making Hope Happen and the world's foremost researcher on hope.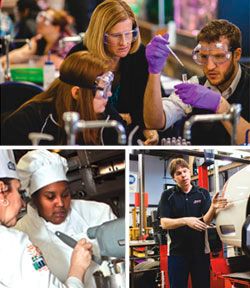 FREE classes, workshops, and educational activities in a fun festival atmosphere
Saturday, October 12
9 a.m. – 4 p.m.
Registration is closed.
This Columbus Day, come to Columbus State and enjoy a day of learning on us! This free day of learning is our way of celebrating 50 years of being the front door to higher education in Central Ohio.
Free 45-minute classes
Free "how-to" presentations
Free demos—many for children
Free health screenings
Free brain-bending activities
Free safety tips
A free transformational keynote speech
And free stuff—even a free book!
Choose from more than 80 classes and activities for every age and interest in topic tracks including Artistic, Automotive, Business, Fix-It/Maintenance, Health, History, Kids/Family, Life and Retirement Planning, Middle School/High School, Multi-Cultural and Social Issues, Writing, Relationships, Self-improvement, and Miscellaneous.