Join us for a celebration showcasing the Columbus State Delaware Campus, our students, and our community partners.
Activities include:
Student displays and presentations
Community partner info tables
Transfer college opportunities and programs
Student/alumni panel discussion about "The Delaware Advantage"
Information sessions on College Credit Plus and EXACTTrack business program
Trivia Tournament from 3-5 p.m.
Prizes, giveaways, and games including button making, 3D printing, and a photo booth!
Refreshments and food trucks
Take the bus from the Columbus Campus to Delaware Campus!
A shuttle bus will pick up guests in front of Davidson Hall at
10:30 a.m. (returns to campus at 1:30 p.m.) and
1:30 p.m. (returns at 5:00 p.m.)
Grab coffee or a snack at Sips at Davidson and 3% of your purchase goes to the Columbus State Foundation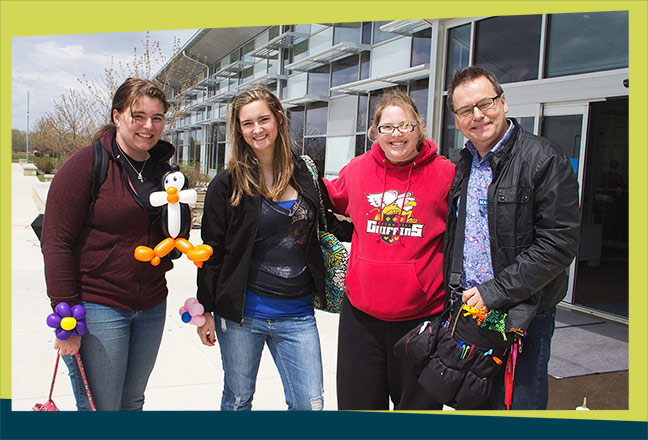 Let us know you're coming!
Tuesday, April 11
11 a.m. - 7 p.m.
Columbus State Delaware Campus
5100 Cornerstone Drive
Delaware, Ohio 43015
| | |
| --- | --- |
| 11:00 a.m. - 3:00 p.m. | Student displays, Community Partners Fair, workshops, demonstrations, and activities, plus food trucks from Tortilla and Explorers Club |
| 11:30 a.m. - 12:00 p.m. | "History of Medicine" a pilot course presentation by Ben Pugno, Ph.D. and Dea Boster, Ph.D., faculty in Humanities |
| 12:00 - 12:30 p.m. | Alumni Panel Discussion |
| 1:00 - 2:00 p.m. | Ironwood Wolves Educational Facility presents "Foxes in Folklore" with an ambassador fox (Moeller Hall 119) |
| 1:30 - 2:00 p.m. | Alumni Panel Discussion |
| 2:00 - 2:50 p.m. | Design a charm on the 3D Printer in Moeller Hall 150 (to be picked up later) |
| 3:00 - 5:00 p.m. | Trivia Tournament with President Harrison - Moeller Hall 111/112 |
| 5:00 - 5:30 p.m. | College Credit Plus Information Session and Q&A and Campus Tour |
| 5:30 - 6:00 p.m. | Alumni Panel Discussion and Campus Tour |
| 6:00 - 6:30 p.m. | EXACTTrack business cohort Information Session and Campus Tour |
| 6:30 - 7:00 p.m. | Getting Started "Discover Your Way" with Columbus State Admissions and Campus Tour |